Seven Facts You Should Know About MSME Loans
What are MSME loans? Know all about msme loans & the top 7 facts you must know before availing any business loan online. Visit to know here!
23 Jun,2022
11:03 IST
107 views
19 Likes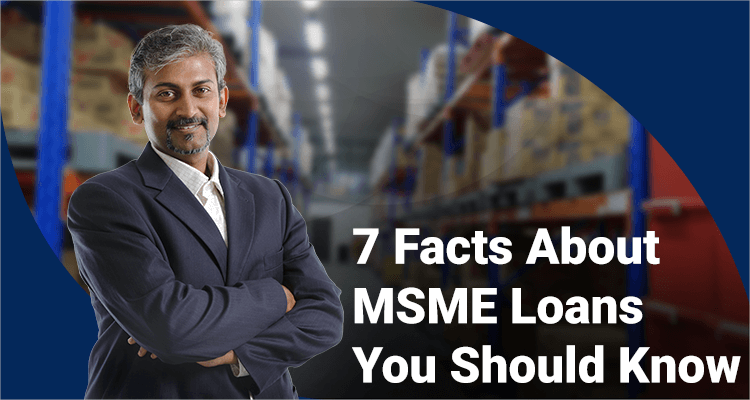 Micro, small and medium enterprises (MSMEs) form a critical part of the Indian economy. Not only do they contribute more than a third of India's gross domestic product, but they are also a significant source of employment.
No wonder, then, that the Indian government and regulatory authorities have initiated several measures over the years to make it easier for MSMEs to establish, sustain and expand their operations.
These measures include providing MSMEs with greater access to financial resources. Indeed, almost commercial banks and a large number of non-banking finance institutions offer loans to MSMEs for various purposes.
Before we delve deeper into MSME loans, let's first understand a few basics about MSMEs.
What Is An MSME?
The primary differences between MSMEs and large-scale industries are the scale of investment and their revenue.
The government defines a micro-business as one which is started with an initial investment of less than Rs 1 crore and has an annual turnover of less than Rs 5 crore.
For a small business, the initial investment limit is up to Rs 10 crore and the annual turnover range is between Rs 5 crore and Rs 50 crore. A medium-sized business is one that has an initial capital of up to Rs 50 crore and annual revenue of no more than Rs 250 crore.
MSME Loans
The MSME loan is a type of business loan that is provided to businesses for starting a business establishment, expanding, or meeting other business exigencies.
In simple words, any credit facility offered to MSMEs to meet their financial needs is classified as an MSME loan. All bank loans to such MSMEs are considered to be part of the Reserve Bank of India's priority sector lending guidelines.
Key facts about MSME loans
Prospective borrowers must be clear beforehand of what exactly an MSME loan is, what it can be used for, how it is different from other financing avenues, and other terms and conditions.
1. Lenders:
Many banks, both state-run and private-sector, as well as NBFCs offer MSME loans. Compared to banks, especially state-run banks, NBFCs typically provide better service, faster approval process, greater flexibility and easier repayment terms.
2. Borrowers:
MSMEs loans are not just for business entities. In fact, women entrepreneurs, self-employed professionals, startups, and proprietorship and partnership firms can also seek MSME loans.
3. Loan Amount:
The loan amount differs from lender to lender, and depends upon a number of factors. These include the borrower's eligibility and actual requirement as well as repayment ability. The amount can range from Rs 1 lakh to as much as Rs 50 crore. In fact, loans up to Rs 50 crore for startups come under the RBI's priority-sector norms.
The amount also depends upon whether the borrower is providing any collateral for the loan.
4. Collateral:
Most banks and NBFCs offer small-ticket loans without any collateral. Again, this varies from lender to lender. Typically, most lenders offer collateral-free loans of Rs 10-20 lakh, though some lenders do provide as much as Rs 40-45 lakh without any security.
The loan amount can increase substantially if the borrower provides a piece of land, any property or any other asset as collateral. In such cases, the amount could rise to Rs 10-50 crore, depending upon the value of the asset. Lenders usually offer secured loans in the range of 60% to 70% of the market value of the asset.
5. Tenor And Interest Rates:
The duration and interest rate on the loan vary from lender to lender. The interest rate depends on numerous factors like size of the business, credit score and cash flows. The tenor ranges from a few months or up to one-two years in the case of small, collateral-free loans to as much as 10 years for larger loans that are backed by collateral.
6. Documentation:
In general,
unsecured MSME loans
require only a handful of documents. These include the application form, address and identification proof, GST certificate, proof of business registration and latest bank statements. In the case of secured loans, lenders also require proof of ownership of the property and may also seek a business plan as well as details of any other outstanding loans from other financial institutions. In addition, individual borrowers need to submit their most recent salary slips or income tax returns.
7. Usage:
MSME loans can be used for a variety of short- and long-term requirements. These include meeting working capital needs, expanding business, buying inventory, machinery or raw materials, upgrading infrastructure, and marketing and promotional activities.
Conclusion
There are a number of resources available for promising entrepreneurs to realize their dream of owning a business. And MSME loan is one of the better options. Most banks and non-bank lenders provide smaller loans easily and without any collateral. For larger loans, borrowers can put any asset such as land or property as security.
NBFCs such as IIFL Finance offer a quick and seamless business loan approval process that is ideal for MSMEs with modest financial needs. The process is 100% online, from application to disbursement. IIFL Finance provides loans of up to Rs 10 lakh to Rs 30 lakh without any collateral, and larger loans of up to Rs 10 crore for 10 years with collateral.