Current Vs. Savings: Does My Account Impact My Business Loan?
Want to know about Current or savings account? Know what type of bank account you use for your business that impacts your chances of getting business loan!
19 Sep,2022
06:39 IST
14 views
8 Likes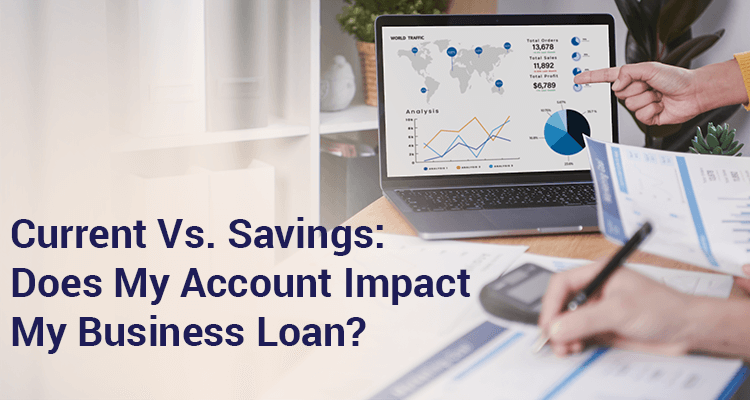 Individuals execute financial transactions daily, usually through a savings account. However, for a business owner, it is essential to differentiate between personal and business transactions. Banks and NBFCs also look for financial differentiation when offering a business loan. Hence, the nature of the account (savings or current) can highly impact the business loan.
Difference Between A Current Account And A Savings Account
A current account is an account belonging to a business entity to execute frequent high-volume transactions. Such accounts come with numerous benefits, such as an overdraft facility, no limit on withdrawals or deposits, and offering business entities to carry out transactions in the business's name.
A savings account is a personal account opened by individuals to carry out transactions using their wealth. Such accounts do not come with benefits offered in a current account but provide a fixed interest to the account holder based on the deposited account.
For a business owner, savings and current accounts are vital to differentiate between personal and business capital.
Current Vs. Savings: Does My Account Impact My Business Loan
In the business spectrum, the business owner and the company are different unique entities that the lenders analyze while offering a business loan. As the business owner is not liable to repay the loan from personal wealth, lenders prefer to look at the business's creditworthiness and hence, need that the business has a current account.
Since lenders offer business loans specifically for business objectives, it is better to have a current account to get a business loan on a current account.
Benefits Of Using A Current Account For Availing Of A Business Loan
Here is why you should open a current account to avail of a current account business loan easily.
1. Minimum Balance:
Since the current account always requires the business to have a minimum balance, it helps increase creditworthiness and the chances of loan approval when lenders analyze the business's financials.
2. Differentiation:
With a current account, it becomes easy for the lenders to differentiate the business expenses from the business owner's expenses. This measure reduces the overall time for approval and disbursal of the
business loan on the current account.
3. Business Transactions:
Current accounts allow business owners to execute high-volume transactions needed for the smooth running of operations. Furthermore, lenders also feel secure with a current account, knowing that the business can get numerous benefits to undertake better financial management.
4. Less Documentation:
Since the current account details all the business transactions, it provides all the needed information to the lender about the business. Hence, when borrowers take a
current account business loan
, lenders require minimal documentation for the loan approval.
Avail Of An Ideal Business Loan With IIFL Finance
If you have a savings account, it is better to opt for
savings account personal loan.
However, it is better to open a current account for quick approval if you want to fulfill your business's capital requirements. IIFL Finance
business loan on the current account
offers instant funds up to Rs 30 lakh with a quick disbursal process. You can apply for the loan online or offline by visiting IIFL Finance nearest branch.
FAQs:
Q.1: Do I need a current account to take a business loan?
Ans: Yes. It is better to have a current account for your business for quick loan approval.
Q.2: What are the interest rates on IIFL Finance business loans?
Ans: The interest rates range from 11.25% to 33.75%, depending on the loan amount.
Q.3: What documents are required for securing a loan from IIFL Finance?
Ans: The specified documents include:
• Previous 12 months' bank statements
• Proof of business registration
• PAN Card and Aadhar Card copy of the Proprietor(s).
• Deed copy and company PAN Card copy in the case of partnerships