Major Challenges Faced By The MSME Sector and Their Impacts
The current economic climate is not ideal for small businesses. We'll walk you through the major challenges faced by msme sector. Read Now!
23 Nov,2022
09:50 IST
23 views
4 Likes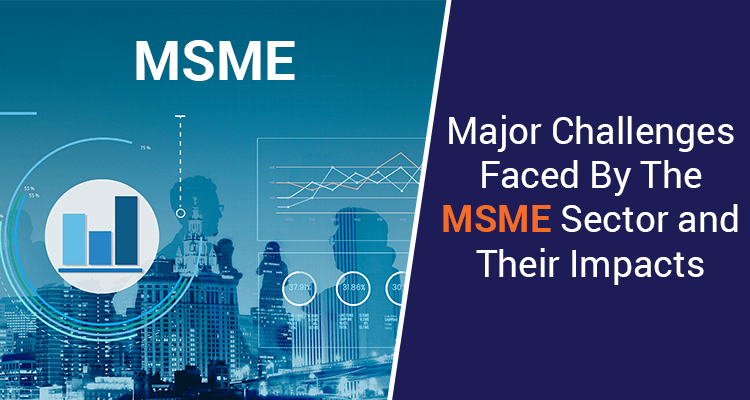 MSMEs (Mirco, Small and Medium Enterprises) have become the backbone of the Indian economy. These companies, although small, provide raw materials or vital products/services to customers or large companies. Yet, they may lack a system to conduct operations smoothly.
MSMEs in India face significant problems in almost every aspect of their business, from registration to transport, forcing them to lose profits or struggle to sustain. However,
MSME business loans
can help overcome these operational challenges.
Primary Challenges Faced By The MSME Sector
1. Financial Issues
Small companies in India have limited existing capital or a significant volume of valuable assets. Hence, access to finance remains challenging for MSMEs. These financial issues make raising immediate funds through a business loan problematic.
Without funds, they either have to reduce their expenses or shut down amid tight competition. If an MSME company does not have enough profits or positive cash flow, it may suffer because of heightened financial issues and lower liquidity.
2. Regulatory Issues
Registration is the first step in starting an MSME. However, the process is time-consuming and has numerous regulatory prerequisites, such as tax compliance, labour laws changes, etc. Although the Indian government has been working towards reforming the registration and regulatory process, it is challenging for MSMEs to register and comply with all the required laws.
3. Infrastructure
Every MSME requires infrastructure, such as a factory or an office, to conduct business activities. However, such infrastructure is expensive and requires raising adequate capital. Although
business loans
are available, MSMEs find it tough to get tier business loans approved without a high turnover and other loan factors.
4. Dynamic Market
New startups and other e-commerce companies are entering and increasing the competition for small companies in the MSME sector. The added competition has made the dynamic market factors volatile and can negatively affect the MSME's operations. Amid such an active market, if a small business is not doing well and earning constant profits, it may have to shut down amid a cash crunch.
Impact Of Such Challenges On MSMEs
Due to financial and regulatory issues, expansion plans for MSMEs in India resulted in low productivity and slowed the speed of profitability. However, lenders have realised the credit difficulties of MSMEs and designed an innovative loan product called
MSME loans
that cater to the capital requirement needs of
Micro, Small, and Medium Enterprises
. Such companies do not need a high authorised capital or annual turnover to qualify for the loan.
MSME Loans: The Solution To MSMEs Credit Problem
By applying for an
MSME business loan
, small business owners can realise the following benefits.
• It creates a credit line for companies in the MSME sector.
• The tenure for such MSME loans is a maximum of 15 years.
• MSME loans can be secured and unsecured.
• The borrower can choose between secured and unsecured loans based on the interest rate and repayment ability.
MSME Loan Eligibility
The MSME loan criteria that lenders have set include the following.
1. Businesses operating for more than six months at the time of application
2. A minimum turnover of Rs 90,000 in the last three months from the time of application
3. The company does not fall under any category or list of blacklisted/excluded businesses
4. The office/business location is not on the negative location list
5. Charitable organisations, NGOs, and trusts are not eligible for a business loan
Avail Of An Ideal MSME Loan From IIFL Finance
IIFL Finance offers loan products such as
MSME business loans
with instant funds up to Rs 30 lakh and a quick disbursal process. Such loans are collateral-free with attractive interest rates and tailor-made for MSMEs with less financial needs. You can apply for the loan online by verifying your KYC details or visiting IIFL Finance nearest branch. The loan application is paperless, with only minimal documents needed.
FAQs:
Q.1: Does MSME loan interest attract GST?
Ans: No. MSMEs will not need to pay GST since businesses having a yearly turnover of less than Rs 6 crore are exempt from this rule.
Q.2: Can I get an MSME business loan from IIFL Finance?
Ans: Yes, you can apply for an MSME loan if you operate in the MSME category. The rates of interest on MSME loans begin from around 7.65% annually. The loan sanctioned ranges between Rs. 50,000 to a few crores.
Q.3: What are the documents required to take a business loan for MSME from IIFL Finance?
Ans: The list of documents includes the following.
• KYC documents – Identity proof and address proof of the borrower and all co-borrowers
• PAN Card of the borrower and all co-borrowers
• Past (6-12) months' bank statement of the main operative business account
• Signed copy of standard terms (term loan facility)
• Additional document(s) for credit assessment and processing of loan request
• GST Registration
• Previous 12 months' bank statements
• Proof of business registration
• PAN Card and Aadhar Card copy of the Proprietor(s)