Benefits Of Online Business Loans Over Offline Business Loans
Compare online business loans to traditional offline loans and discover the benefits of easier access, faster approval times, etc. Read to know!
3 Feb,2023
11:01 IST
2799 Views
961 Likes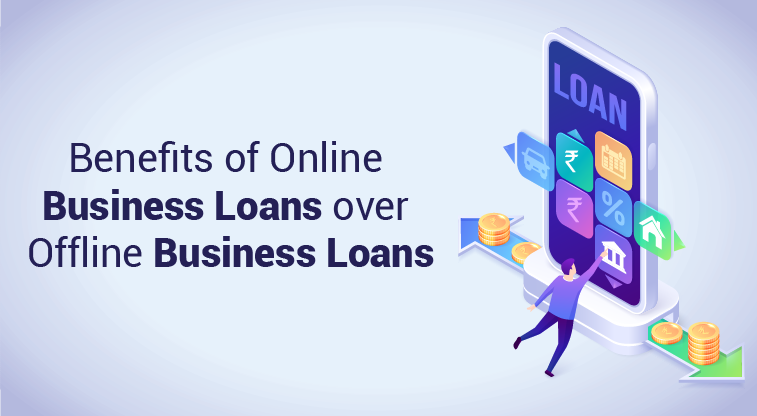 Almost every business, big or small, requires credit from time to time. Business loans are a good way to fund a shortfall in working capital or for most other business processes like buying raw materials or paying salaries or creditors.
With the advent of technology, when everything moves at breakneck speed, time is at a premium. Most businessmen and businesswomen are pressed for time. This is especially true of small businesses, where owners play multiple roles as the teams managing such enterprises are typically small.
This is where an online business loan comes in very handy as it offers a quick and easy way to borrow money for the enterprise.
Convenient and Quick
Many banks and non-banking finance companies (NBFCs) as well as new-age fintech lending platforms have helped quicken the entire process from application to disbursement by providing business loans online.
Such online loans help business owners, who do not have the time or the energy to fill out application forms or for that matter submit copious paperwork by physically going to a bank branch or office, expedite the process.
Apply In Double Quick Time
Most lenders allow for a fast and hassle-free
online application process
when it comes to a business loan. An owner of a small or medium-sized enterprise has to furnish just the basic information about his or her enterprise and upload all the necessary paperwork on the lender's website or mobile application.
Minimal Documentation
Most lenders typically need minimal paperwork or documentation while processing an online business loan application. A conventional loan, on the other hand, will typically need a significant amount of physical paperwork to be submitted at the lender's branch or office.
For most lenders, a business and personal income tax return and some form of ID proof, like, say, a driver's license or a passport, should be sufficient, especially when it comes to granting an unsecured business loan without a collateral.
Lower Processing Fee
Less paperwork as well as an online process means the time taken to process the application is much shorter and so the entire process becomes much quicker. A shorter time and less effort required to scrutinise a loan application translates into a lower processing fee on the loan.
Online business loans, therefore, score a march over conventional credit products in how quickly these business loan applications can be processed. A loan, once approved, is quickly disbursed into the company's account. Moreover, the repayment process can be equally quick.
Conclusion
As can be seen, an online business loan can really help you get the required amount quickly and in a hassle-free manner with minimal paperwork.
Established lenders like IIFL Finance continue to hold their own when it comes to offering the best interest rates in the market. In fact, IIFL finance has some of the most robust digital systems that make the entire process of availing a business loan a breeze. The company offers both unsecured and secured business loans to enterprises of all sizes.
Not only can you apply online for a loan from IIFL Finance, the entire process can be completed from anywhere and you can submit all the necessary paperwork right from the comfort of your home. Moreover, IIFL Finance comes with an impeccable reputation that few other lenders can match.