Why Is Gold Loan A Good Option For Quick Money
If you are confused between gold loan vs personal loan then it is important to evaluates and selects the right borrowing instrument to best meet your requirement.
13 Sep,2022
10:29 IST
17 views
48 Likes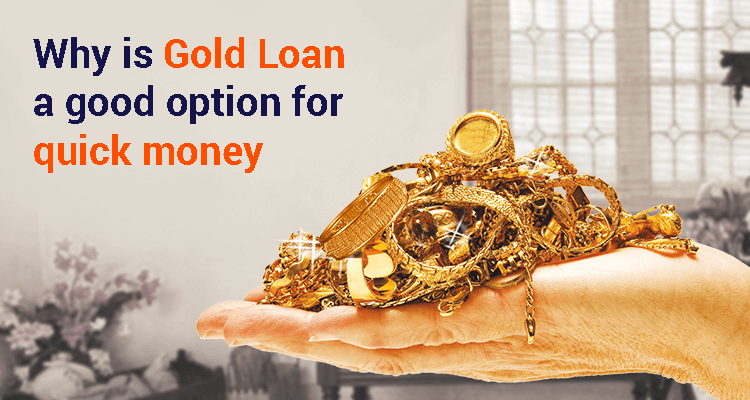 We all have various expenditures to manage our short-term and long-term needs, and often the salary or other income, either as a professional or a business person, is not enough. In such times, one can resort to borrowing money to meet the gap between income and expenses.
While there are specialized loan products like a housing loan and car loan for large-value purchases and the loan tenure is longer, many a time for the requirement of money is for the short term and the amount is also smaller.
For such needs, a general personal loan and a gold loan are more appropriate.
Why One Should Go For A Gold Loan
A general personal loan is provided based on the salary or monthly cash flow as a business or professional income. It also takes into account the credit score of the borrower. So, if one has several loans already running and or if one has missed paying back an equated monthly installment (EMI) in the past, it brings down the credit profile.
While one may still get a personal loan, the amount may be less than what's required. It may also require additional documents and, most importantly, push up the interest rate to be charged on the loan.
In such a scenario, a gold loan comes as a quick and easy alternative to a general personal loan.
Most households have unused gold jewellery that is rarely worn and, in many cases, stored in bank lockers for safety, to be used only on special occasions. Such gold ornaments can be monetised by borrowing against it. So, instead of keeping the gold jewellery in one's cupboards or bank lockers, it can be pledged to borrow money.
The good news is that as long as the value of the gold jewellery covers the borrowed amount, even someone with a low credit score can get a loan for short-term needs.
Secondly, the interest rate charged for a gold loan is less than that for a similar-sized personal loan. This makes the gold loan a more compelling product for meeting excessive short-term expenses.
This also makes the gold loan a more easily accessible form of personal loan in the country. At the same time, gold loans allow one to improve their credit scores for the future.
Many lenders approve a gold loan within minutes via a swift online application process that is then followed by a home visit for quick inspection of the jewellery and disbursement.
Conclusion
It can be difficult for many borrowers to take a personal loan due to a weak income profile or a low credit score. A gold loan allows them to get through the problem.
In fact, it is a better alternative than a personal loan to borrow quickly for meeting short-term needs. It also comes at lower interest rates and helps borrowers to push up their credit scores for availing other loans in the future.