What Will Happen If A Personal Loan EMI Bounces?
Here is a quick guide about what happens if you missed on your personal loan EMI. Read to know what are the legal actions you can perform to overcome them.
30 Nov,2022
12:43 IST
365 Views
90 Likes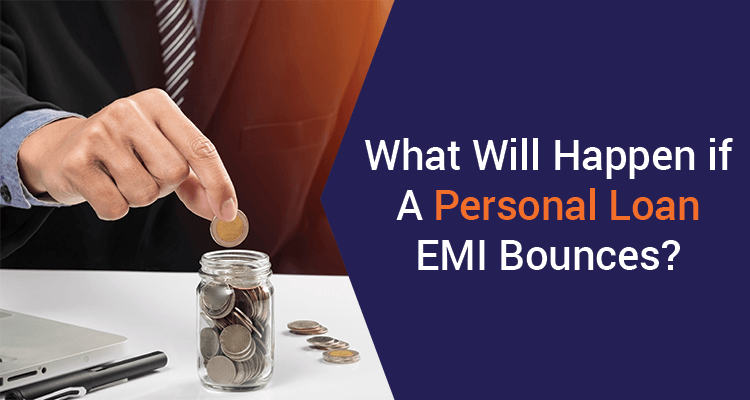 Lenders disburse personal loans to borrowers based on their creditworthiness. These unsecured loans don't require pawning your jewellery like you would for a gold loan. However, the primary concern for any borrower is repaying the loan EMIs.
There may be situations where you face financial hardship, or due to some technical reasons on the banking front, your EMI payment bounces. What are the consequences, and how can you continue repaying your EMIs?
What Are EMI Bounce and Its Implications?
If the EMI cheque/payment fails or bounces, the borrower will miss the payment cycle for that month. Furthermore, If the person chooses to deposit the check on the due date each month and misses the due date, the person is also considered to have failed to pay EMI.
Even if they choose direct debits, and the balance in their bank account is subject to automatic direct debits related to the loan is less than the amount owed under their EMI responsibility, it becomes their EMI liability. It counts as an unpaid EMI. A few implications of missed EMIs are as follows.
1. Penalty For Non-Payment
The lender charges additional fees to the borrower for late payments. The financial institution states these terms in the loan agreement signed by the borrower.
2. Late Payment Surcharge
EMI payments are delayed if a check bounces, the borrower fails to deposit money on time, or the bank account balance falls below the amount required to meet EMI requirements. It may mean days, weeks, or months of delay in payment.
The lender adds unpaid interest as part of the total liability. So if the borrower misses their EMI payment, they will have to pay additional interest to cover the intervening period.
3. Low Creditworthiness
Most importantly, failing to pay EMI is a big red flag for your credit history. It gets flagged on your credit report and amplified as your credit score falls. It creates implications for the future, as lenders are aware that such behaviour diminishes the creditworthiness of loan applicants. Lenders may deny new loan applications if your credit rating drops significantly. Even if the loan is approved, it may carry a higher interest rate.
Frequently Asked Questions
Q.1: What are the eligibility criteria for a personal loan?
Ans: Most lenders list the eligibility criteria on their websites which the borrower must fulfil to qualify for a personal loan. However, the common ones among lenders include:
• The borrower must be between 21 years-65 years
• The applicant should be a salaried employee or a self-employed individual
• The borrower should have a CIBIL or credit score of 750 or higher
• The applicant's income must be at least Rs 22,000, depending on the city of residence
Q.2: How to reduce EMI payable for a personal loan?
Ans: A credit score of 750 out of 900 can help you reduce your EMI payables with a lower interest rate.