What Types Of Businesses Qualify For Small Business Loans? What Are Typical Loan Terms?
Business loan can be useful for a small business or startup to meet their various needs. Want to know what types of businesses qualify for small business loan. Read Now.
29 Nov,2022
07:14 IST
11 Views
2 Likes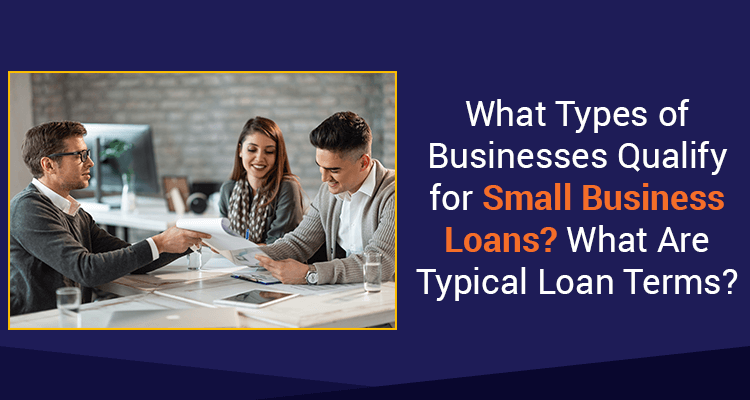 Small and medium-sized enterprises have increased rapidly in India in recent years. Nationally, these companies contribute significantly to the economy and the job sector.
Small business loans help these companies country-wide run their operations smoothly. These loans can help meet various objectives, such as working capital, machinery acquisition, marketing, recruitment, and utility payment.
What Is A Small Business Loan?
You need funding to launch a new business or expand an existing one. A small business loan enables entrepreneurs to start and run their businesses while maintaining control over them.
Understanding how small business loans work is crucial for applying for one and choosing the best loan for your business. Listed below are some small business loans that can help your company.
• Term Loan
A term loan involves borrowing a specified amount upfront and repaying it over time with interest. There are many lenders offering term loans, including banks and NBFCs.
There are two types of term loans: short-term and long-term. The term "short-term loan" refers to loans that last less than two years, while the "long-term loan" refers to loans lasting up to ten years.
• Working Capital Loan
Businesses use working capital loans to acquire machinery/equipment, manage cash flow, buy raw materials, increase inventory, pay salaries, and more. Most working capital loans have a repayment period of three to twelve months.
The interest rate is slightly higher than long-term and standard business loans. Banks establish lending limits for firms, and companies can only use the funds for specific business purposes.
• SBA Loans
The Small Business Administration guarantees these loans, which banks and other lenders provide. The intended use of the funds determines the repayment period for an SBA loan. For example, working capital loans last seven years, equipment acquisition loans go up to ten years, and real estate loans span twenty-five years.
• Invoice Financing
Firms can also apply for invoice loans as asset-based financing. Using this company loan, you obtain a cash advance from a lender based on your outstanding invoices. The unpaid bills serve as collateral for the loan amount. Generally, lenders advance 85-90% of the invoice amount and keep the rest.
Eligibility For A Small Business Loan
Small business loans are subject to the following eligibility criteria.
• A candidate should not be affiliated with the financial sector.
• The candidate must be over 21 and under 65 years of age to apply for a loan.
• Among the industries in which the candidate can operate are manufacturing, service, and trading.
• Candidates must be members of the following groups:
◦ Firms that form partnerships
◦ Professionals and individuals working for themselves
◦ One-person business
◦ Limited liability corporations (LLCs)
• Microenterprises like vegetable sellers, grocery stores, and other small businesses are eligible.
• Electronics stores, tailors, and other small and medium-sized businesses (SMEs) can apply.
FAQs
Q1. What is the most common type of small business loan?
Ans. Term loans are the most common type of small business loans.
Q2. What are the types of small business financing?
Ans. Business loans, business lines of credit, business credit cards, equipment loans, and commercial real estate loans are all types of small-business financing.