What To Do If Your Business Loan Is Rejected?
Business loans have become popular among people to meet their capital need and run their business effectively. Read to know what to do if your business loan get rejected.
1 Dec,2022
10:58 IST
5 Views
29 Likes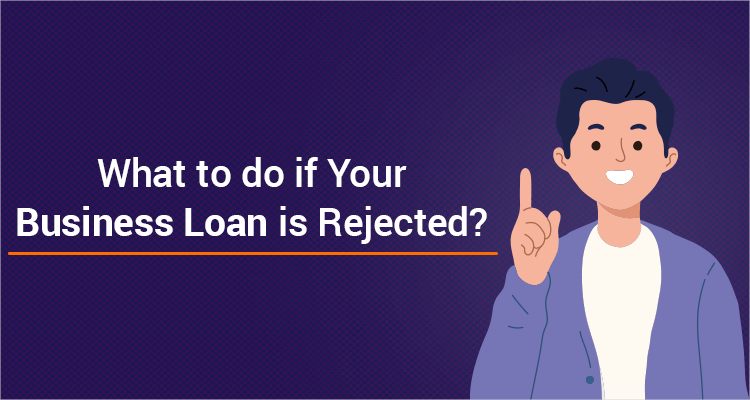 Business loans have become popular with the expansion of markets globally. These loans offer effective execution of many operations such as new product launches, opening additional units, international growth and much more.
A good credit score, stable income, and proper tax filings can help you fetch a low-interest business loan quickly. However, though financial institutions follow simple procedures for business loan sanctions, sometimes your application can get rejected. If you are facing a similar crisis, This article elaborates on some practical solutions to this problem.
Reasons For Rejection Of Business Loans Applications By Lenders
1. Faulty Cash Flows
Financial institutions analyse your cash flow to review your eligibility for business loans. A consistent flow of funds in your business vouches for your stable income. However, a negative monetary situation or excess cash outflow can be a strong reason for rejecting your loan application.
2. Poor Credit Score
Generally, a credit score of 750+ out of 900 can help secure a low-interest business loan from a lender. Conversely, if you have a credit score below 600, financial entities will see you as a high-risk customer and refuse to provide you with loans.
3. Outstanding Loans
Lenders review the credit report before proceeding with official checks. They will most likely reject the business loan application if you have multiple outstanding debts that show weak loan management and dubious repayment status.
4. Weak Business Plans
If lenders do not find relevance and authenticity in your business plan will reject your application. They prefer to support less risky ventures.
5. No Collateral
For unsecured business loans, you must have a high credit score, steady cash flows, clear credit history, and more. The lender may disapprove of your application if you fail to satisfy either category's requirements.
Things To Do After Getting Rejected For A Business Loan
1. Find The Reason For The Rejection
Financial institutions can reject your application for various reasons. For entrepreneurs, limited business experience can be a strong reason for rejection, whereas a poor credit score can be a significant downturn for established business owners. However, securing a loan by collateralising assets can be viable if you fall in either category.
2. Improve Your Credit Score
If your lender rejected your business loan application citing low credit scores, you should take immediate steps to improve them. To revamp your credit score, you can:
• Pay interest and principal on or before the due date
• Maintain a low credit utilisation ratio
• Clear earlier debts
3. Choose Alternative Options
You can also opt for alternative lending institutions for business loans. This category includes private lenders, online lending platforms, and marketplace loan providers. These entities offer short-term, instant loans to customers with less complicated paperwork. However, their interest rates are usually higher than the prevailing market rates.
Conclusion
Financial institutions offer easy business loans to entrepreneurs, small-scale businesses, and large corporates. However, sometimes, lenders can reject your loan application after assessing your eligibility on various parameters. Follow the steps mentioned here to improve your candidature after facing rejection from lenders and improve your credit history for future loan sanctions.
FAQs
Q1. Can you use a business loan for personal use?
Ans. No, you cannot use your business loan amount for personal use. Unlike personal loans, business loans require the borrower to utilise the capital for business purposes only.
Q2. Do you need collateral for business loans?
Ans. You must deposit collateral with the lender if you want a secured business loan. This collateral can be in the form of jewellery, property, etc. These loans have low-interest rates.