What Is Personal Loan Amortization Schedule
Personal loan amortization schedule helps the borrowers to plan their repayments of a loan. Read to know in details about personal loan amortization.
10 Nov,2022
12:28 IST
16 views
105 Likes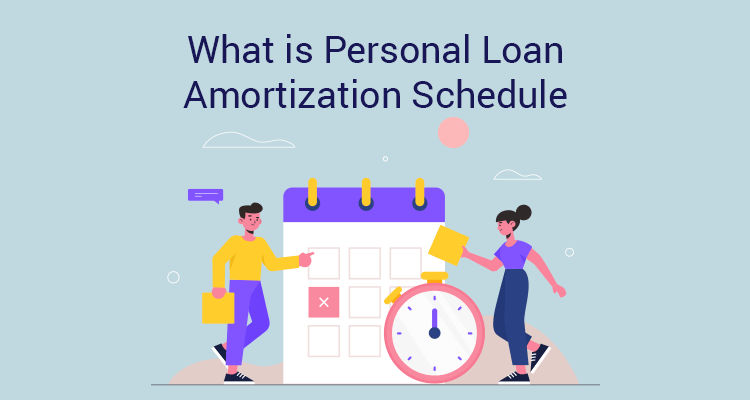 Any person can fall short of money anytime. Whether it's for renovating the home, buying expensive gadgets, or meeting medical costs that may arise, a sudden requirement of funds can be easily met through a personal loan.
A personal loan can be applied for easily and without even visiting the lender's branch by logging on to their website or mobile app. A loan applicant need not provide any asset as security to the lender to take out a personal loan.
Once the lender receives all the documents and verifies the paperwork, it can approve a personal loan within hours and can deposit the money into the borrower's bank account in just a day or two.
The loan repayment process is simple, too, and most reputed lenders permit borrowers to make payments online or offline via a fixed, pre-agreed schedule that can even be customized depending on their cash flows. The process of spreading out loan repayments over a period is known as amortization.
Loan Amortization – Meaning and Importance
The principal amount of the debt, as well as any interest that has accrued or become due within the set time period or tenor, must always be returned when taking out a personal loan. Amortization is the term used to describe the process of allocating the debt and interest payments over this period.
In other words, the term "amortization" refers to the process of paying off debt in periodic instalments over a specified length of time. Amortization primarily enables the borrower to comprehend the regular payments and the method of debt repayment over time.
Most lenders provide a personal loan amortization calculator to their borrowers. This calculator is useful since it enables the borrower to comprehend the amortization plan that applies to their loans. The EMI loan calculators are frequently combined with such amortization calculators.
Loan Amortization Schedule
A personal loan must be repaid over a set length of time, which could be up to five years, in equal monthly instalments, or EMIs.
An amortization plan for a loan can be used to summarize the entire repayment process, including the EMIs that must be paid as well as the principal and interest on each instalment.
An amortization schedule is a table that depicts how the principal and interest portions of each EMI change as the loan is repaid. This amortization schedule aids the borrower in effectively planning their repayments. If customers use features like balance transfers, it also makes it easier for them to calculate the financial benefits of the loan.
The interest component is often significant at the start of the repayment period. The interest component starts to decrease over time when the loan is repaid. As the repayment period comes to a close, the interest portion of the EMI decreases and the principal makes up the majority of the instalments.
An understanding of the amortization schedule can help borrowers to decide when to make prepayments on a loan to reduce their overall interest outgo.
Conclusion
A personal loan can help people manage many a difficult situation, from dealing with healthcare emergencies to going on a foreign vacation and buying home appliances.
Taking out a personal loan is a convenient option to get short-term funds. Moreover, reputed lenders also provide additional information to borrowers such as an amortization schedule that can help them gain better understanding of their repayments and even save on interest expenses.