What Is Overdraft? Meaning, Types & Other Details
An overdraft facility is a credit facility which allows to borrow extra money. Read to know more about the overdraft meaning and other details.
3 Oct,2022
10:47 IST
4 views
3 Likes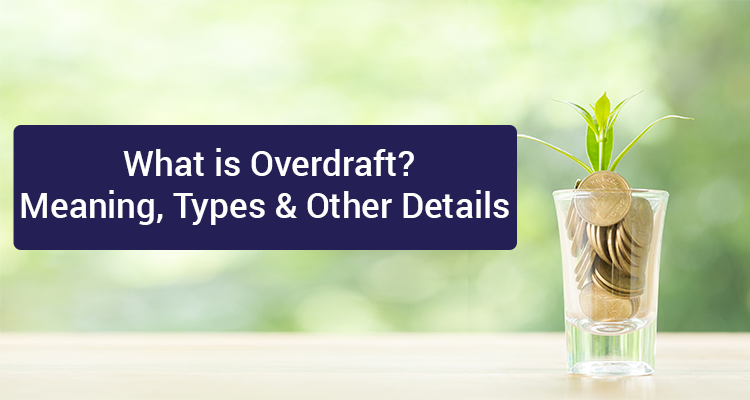 Entrepreneurs looking to start a new venture or to expand their businesses need money regularly. Often, they do not have the resources to plough into their business. This is where an overdraft facility can come in very handy.
An overdraft can help a business owner meet their working capital or capex needs or any other financial requirements.
But first, what is an overdraft? An overdraft facility is a credit facility that basically allows a business owner to borrow money from their business' current account, even if it has a zero balance.
So, how can an overdraft be used by a business owner? An overdraft can be used to meet short-term business requirements. The interest rate on an overdraft will vary from lender to lender and across business genres.
An overdraft is essentially a revolving loan where the customer can deposit the money back into the current account and then make a withdrawal later.
Key Features Of An Overdraft
An overdraft facility has the following features:
1. A business owner can withdraw the money from the current account even if it has a zero balance
2. The loan is like a credit line
3. Interest rate is charged only on the overdrawn amount and not on the amount that has not been withdrawn yet
4. An overdraft is mostly availed as a short-term loan
5. The loan is repaid out of bank deposits
6. Interest rate is calculated on a daily basis
7. The money disbursed as loan depends on the money in the bank as well as on the relationship the borrower enjoys with the lender
8. The borrower has to be a current account holder to avail of an overdraft facility
There are various types of overdraft facilities typically available to a business owner. While these may not be applicable to all business owners, here are the various types of overdraft facilities that banks usually provide.
Overdraft Against Insurance Policy:
This depends on the surrender value of an insurance policy, which typically acts as collateral in case of default.
Overdraft Against Fixed Deposit:
If a person maintains a fixed deposit with the bank, they can withdraw money up to a certain fraction of the deposit amount.
Overdraft Against Home:
Homeowners can borrow up to half their house's value as overdraft.
Overdraft Against Equity:
A borrower can get this facility by keeping some equity shares as collateral.
Overdraft Against Savings Account:
This is available to customers who have a savings account with the bank and transact regularly.
Overdraft Against Salary:
This is typically for salaried employees who may be having a salary account with the bank.
Conclusion
An overdraft facility can be a good option for a current account holder as long as they are borrowing for a short period of time and the money being borrowed is not huge.
An overdraft is ideal at times as the interest is charged only on the amount that is actually borrowed and not on the entire loan that has been sanctioned. This can be good for a small business that is looking to save interest cost.