What Is The Minimum CIBIL Score Required For Personal Loan?
Minimum Cibil Score for Personal Loan is a step-by-step guide to help you understand your eligibility. Get to know more here!
3 Oct,2022
11:10 IST
5 Views
46 Likes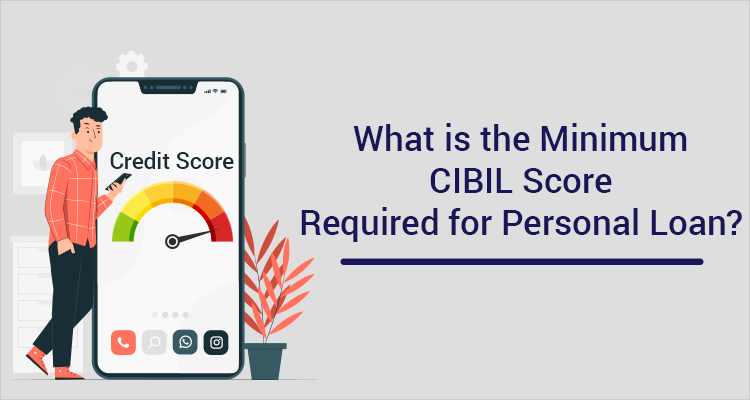 Most people will find themselves in a tough spot when they are short on money, at least once in their life. They may not have enough money to pay for an unforeseen medical expense or for an urgent home repair or to pay their kids' school fees or even a wedding bill that may have overshot their budget.
In all such unfortunate circumstances, a personal loan can come in handy. A personal loan is essentially an uncollateralized loan that a lender gives after looking at the borrower's credit history and general creditworthiness.
A borrower's creditworthiness and their ability to repay a loan and the interest, is determined by their CIBIL score.
CIBIL Score
A CIBIL score, or more generally known as a credit score, is an important eligibility criterion for lenders while determining whether a borrower should be lent money without a collateral. In the absence of a pledged collateral, the CIBIL score provides the lender with some degree of reassurance that the borrower will repay the money.
On top of that, a good CIBIL score can ensure that the borrower gets the best interest rate in the market.
So, what is the minimum CIBIL score needed for a personal loan?
The CIBIL score of an individual ranges from 300 to 900; the higher the score, the better it is. The minimum CIBIL score for a hassle-free and fast loan approval may differ from lender to lender but it is usually between 720 and 750. The higher the CIBIL score the better the chances that the borrower will get the unsecured loan at the best interest rate possible in the market.
If a borrower has a CIBIL score of 750 or more, he or she can avail a personal loan from any good lender as long all the other eligibility criteria are fulfilled and the documents are in order.
The other criteria pertain to income, age, citizenship etc, while the documents that need to be submitted are about Know-Your-Customer (KYC) details, proof of address, bank details, details of employment, and salary details.
What happens if the CIBIL score is less than 750?
If a borrower's CIBIL score is less than 750, while they may still be eligible for a personal loan, the interest rate charged may be higher than that for someone with a better CIBIL score. Moreover, they may have to undergo greater scrutiny pertaining to their other loans, credit history as well as any history of defaults.
Conclusion
A high CIBIL score is ideal for getting a personal loan, quickly and without any problems. Not only does a CIBIL score of 750 or higher mean quicker approval and disbursal, it also means that the borrower can negotiate the best available interest rate that in the market at that point in time.
Moreover, a good CIBIL score attracts less scrutiny from the lender, as a good credit history gives them confidence that the borrower will not default and will pay back the principal and interest within the tenor of the loan.