What Is Kiosk Banking? – Business, Eligibility, Benefits, Purpose
What is Kiosk banking? Want to know the benefits, eligibility, purpose & other details you must know. Read Now!
16 Dec,2022
13:11 IST
3 Views
46 Likes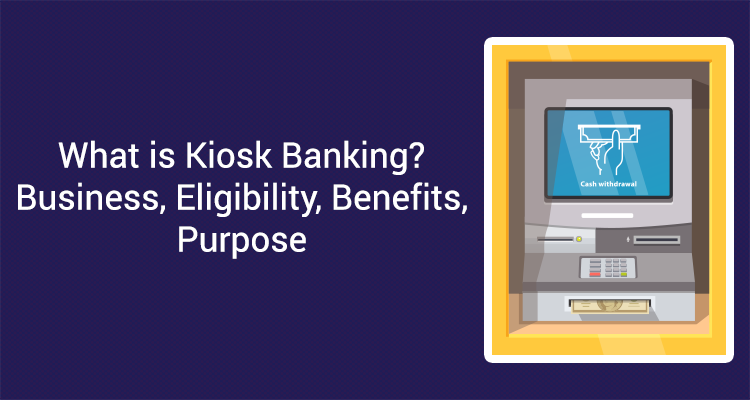 Nearly every person in cities and towns owns a bank account, but there are still many areas that remain unbanked. For such places where it may not be economically feasible for banks to set up a full-fledged branch, the Reserve Bank of India allows what is known as kiosk banking. This leads to improvement in financial inclusion in rural and remote areas. Kiosk banking even serves an important role in some urban clusters that may not have proper roads or infrastructure.
A kiosk could refer to a small standalone device that provides information and services on a computer screen. It could also be a small structure used to sell merchandise such as newspapers or services.
The idea behind kiosk banking is that it will be a single touch point with all the basic services such as cash withdrawals and deposits, cheque deposit, micro credit, money transfer and even insurance.
There are two components to kiosk banking:
Kiosk Machine
A kiosk machine allows customers of a bank to deposit cheques, check balance, deposit cash, and even print their passbook. It is a small bank in itself with most functions that a bank teller would provide.
Customer Service Point
The Customer Service Point allows customers to connect with their respective banks. It is available within the kiosk banking space and can be used to raise most of the issues on banking transactions.
Business Of Kiosk Banking and Eligibility
The government of India has been going the extra mile to ensure that every person in India owns a bank account and has access to banking facilities. In areas, where there is a lack of banking facility, the Reserve Bank of India allows kiosk banking that can be a good business for someone looking to make extra money.
Banks offer commission to kiosk owners for every transaction while providing all the necessary training. All that the kiosk owners need to do is to learn these instructions carefully and provide space for setting up the necessary machinery. The more people come to the kiosk and transact, more the commission a kiosk owner can make.
Any adult who has studied at least till senior secondary can open kiosk banking. The person should have a booth of at least 100 square feet, a computer, Internet connection and possibly a printer.
Machines such as those needed to scan fingerprints are usually provided by the bank though some of the lenders may require the kiosk owner to be registered as an MSME.
Benefits Of Kiosk Banking
While as a business kiosk banking offers commission to the kiosk owners, the customers also benefit in following ways:
• There is no minimum balance requirement for accounts opened through kiosk banking.
• The know-your-customer norms have also been made easier for such accounts.
• They can do daily transaction of up to Rs 10,000 and can keep a balance of up to Rs 50,000.
• The transactions can be performed using thumb impression.
• Account holders of kiosk banking get an accident insurance coverage of Rs 10,000.
• Customers can also open recurring or fixed deposit accounts at kiosk banking facility.
Conclusion
Kiosk banking is a win-win for banks, kiosk owners as well as for the customers—banks reach out to customers at a much cheaper cost, kiosk owners can make money from commission while carrying out other work such as a grocery store, and customers get banking at a convenient location and a no-frills account.