What Does Capital Mean In Business?
Capital is an important part for every business to run efficiently. Read to know more about what does capital mean in business.
19 Oct,2022
11:18 IST
5 Views
203 Likes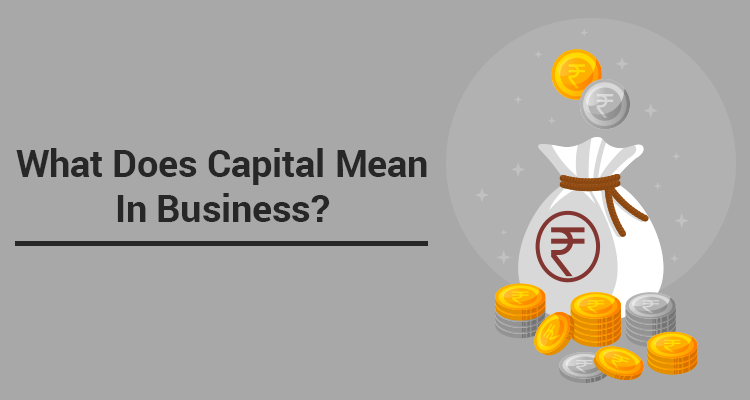 Capital is the vital resource that helps businesses expand and thrive within global markets. The definition of the term capital varies for each person. For instance, the meaning of the term capital for an individual differs from that of an economist. Capital procurement is the primary requirement for an entrepreneur looking to start a new venture. No business idea can flourish without a proper cash flow.
But what exactly does capital in business mean? This article explains the significance of capital in a business.
What Does Capital Mean In Business?
Capital includes everything that helps a company owner run and expand their business activities. Business capital adds value to the entity's financial assets and, ultimately, their worth. Furthermore, it helps to initiate business operations, manage everyday expenses, and support financing plans for future expansion.
Unlike cash, capital has a broader scope. Business owners can utilise it to diversify their income sources through investments. Additionally, they can use equity financing or rely on everyday trading activities to increase their capital pool.
What Does Capital Include?
Capital includes tangible and intangible financial assets, including the following:
• Machinery
• Setting up a Factory
• Stocks and shares
• Intellectual Property like patents
• Bank accounts
• Company assets like cars
When an accountant or an economist studies the financial statements of a business, the first thing they notice is the capital. It represents a clear picture of the core health of the firm.
What Are The Types Of Capital In Business?
1. Working Capital
This capital type helps ensure the continuity of daily business activities. The routine expenses include salaries, rent, utility bills, raw material purchases, etc. This capital evaluates a firm's short-term liquidity.
2. Equity Capital
This capital refers to all the funds a firm raises through shares. There are three common types of equity capital: public, private, and real estate. Firms raise equity capital by organising an Initial Public Offering and listing their shares on stock exchanges. A company raises private equity by releasing shares to selected investors.
3. Trading Capital
This capital hints at the funds allocated by a broker or a trader for investing in financial markets. Simply put, trading capital is a firm's money to buy financial assets. Companies use trading capital to buy new stock and settle losses that might arise from the sale of an investment.
4. Debt Capital
It includes loans businesses take from financial institutions to meet their capital requirements. Issuing bonds is also a common practice for raising debt capital.
Conclusion
Capital is the lifeblood that keeps a business running for a long time. Maintaining a sound capital system requires a lot of effort in the form of strategies and plans. Investing funds in financial assets increases capital worth eventually. When capital expands, the financial value of the business expands simultaneously.
FAQs:
Q1. Why does a business need capital?
Ans. Capital is necessary for everyday business activities and also for its expansion. A good capital allocation plan can help you invest your funds prudently and eventually help in business growth.
Q2. What is the most popular way to raise capital in business?
Ans. The most viable way used by businesses to raise capital is through debt and equity capital. With equity capital, companies allow investors to become shareholders.