What Are The Types Of Large Business Loans?
Businesses need adequate capital to run their business and manage their operational goals. Thus business loan can help to raise immediate funds. Read to know about what are the types of large business loan.
30 Nov,2022
12:09 IST
3 Views
25 Likes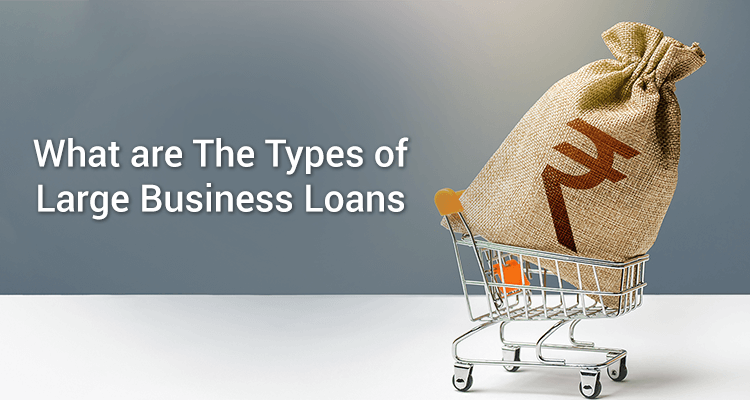 Companies need adequate capital to invest in every aspect of their business and achieve their operational and financial goals. However, most entrepreneurs have little personal savings to keep investing in a business requiring high capital. Thus, business loans can help them raise immediate funds to cover expenses such as working capital, expansion, marketing advertising etc.
Lenders such as banks and NBFCs offer business loans to entrepreneurs at a nominal interest rate without the need for collateral. However, numerous lenders have multiple business loan products. You must know the types of large business loans before applying.
Types Of Large Business Loans
Here are the different types of large business loans in India:
• Working Capital Loans:
These loans allow entrepreneurs to raise capital and fulfil short-term and current liabilities such as day-to-day or approaching expenses such as paying rent or employee salaries.
• Term Loans:
These short-term business loans provide immediate capital without having additional benefits. Term loans are short-term with a loan tenure of 1-5 years.
• Commercial Business Loans:
Lenders have designed commercial business loans to cater to the capital needs of large companies. They offer business owners immediate capital up to Rs 50 lakh with a 3-5-year tenure. The loan is for businesses that have been at least running for a year and are profitable.
• Startup-Loans:
Startups need capital to execute the business idea into reality. Such loans provide high capital amounts to startup owners without pledging any valuable asset as collateral and offer repayment flexibility to budding entrepreneurs.
• Equipment Finance:
Large manufacturing companies must purchase or repair equipment regularly for smooth operations, which requires a large sum of money. Equipment Finance is a large business loan used to buy or upgrade equipment, such as machinery, and ensure the operations run smoothly and the business increases sales.
• Invoice Financing:
This loan gives entrepreneurs enough reserves to pay for raw materials, rent, employee salaries, etc. Invoice financing is ideal for entrepreneurs with inadequate funds because of unpaid account receivables.
Conclusion
With adequate capital, it becomes easier to run the business operations smoothly and ensure that business success. Although business loans are ideal, entrepreneurs must choose the right one among numerous large business loans.
FAQs
Q.1: Do I need collateral to take a business loan?
Ans: No, a business loan does not require pledging any asset as collateral.
Q.2: How can I know the EMI for a business loan?
Ans: You can use business loan EMI calculators available on the lender's website to calculate the EMI for your loan.