What Are The New Norms For Gold Loan
A gold loan is easy to apply and the entire process can be done online. Want to know about what are the new norms for gold loan. Read Now.
29 Nov,2022
07:49 IST
4 Views
29 Likes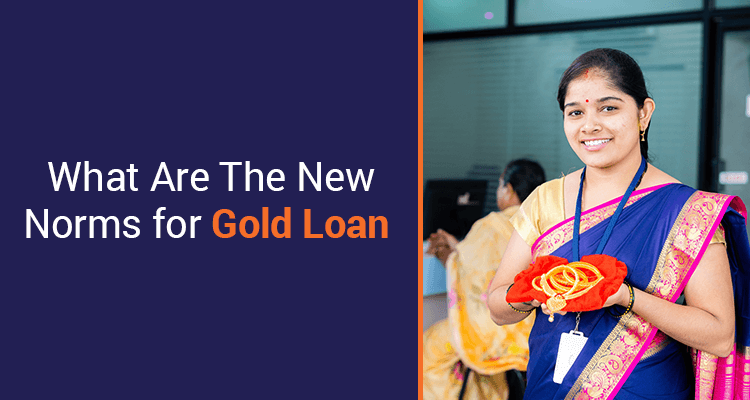 For centuries, Indians have considered gold an ideal investment. Buying gold and selling them at a higher price can generate profit. But, some secure their gold in vaults and lockers. Since gold always has value in the current market, lenders designed gold loans for individuals to pledge gold items and raise capital to cover expenses.
If you have gold articles, you can apply for a gold loan to raise adequate funds to cover various expenses such as education, marriage, vacation etc. However, before applying for a gold loan, it is essential to know all the new norms set by the Reserve Bank of India for gold loans in India.
The New Norms: Loan-To-Value Ratio
The current market value of gold determines the loan amount lenders offer to the borrower. However, the gold price fluctuates daily based on demand, supply, inflation, etc. Lenders must ensure that the gold articles have a higher value during the loan term than the offered gold loan amount considering the possibility of default by the borrower.
If the borrower defaults, the gold articles must have a higher value than the offered loan amount so that the lender can sell the gold assets and square off the outstanding loan amount.
The Loan-To-Value ratio is the loan amount lenders offer a borrower after ascertaining the current value of the gold articles. For example, if the Loan-To-Value ratio is 70% and you have pledged gold ornaments worth Rs 1,00,000 with the lender, they will offer you Rs 70,000 as the gold loan amount.
RBI Norms On LTV Ratios On Gold Loans
Till 2020, the RBI allowed lenders an LTV ratio of up to 75%. However, the RBI relaxed the norms during the COVID-19 pandemic owing to a liquidity crisis with Indians and increased the LTV ratio to 90% of the gold's assessed value. The new LTV ratio allowed Indians to get a higher loan amount for their gold articles at a time when the need for cash was significant. However, RBI has reverted the ratio to 75% as the Indian economy and businesses recover from the pandemic.
FAQs:
Q.1: Will I always get 75% as the loan amount?
Ans No. Although 75% is the highest LTV, numerous other factors affect the offered amount, such as the quality of the gold, current loans etc.
Q.2: What is the average interest rate on Gold Loans?
Ans: The average interest rates for gold loans range from 6.48% to 27% p.a.