Five Ways You Can Bag Personal Loan Despite Low CIBIL Score
A personal loan is one of the easy way to arrange quick cash at time of emergency. Cibil score is an important factor while availing a personal loan. Read to know the ways to get personal loan instead of low cibil score.
10 Oct,2022
12:06 IST
3 views
3 Likes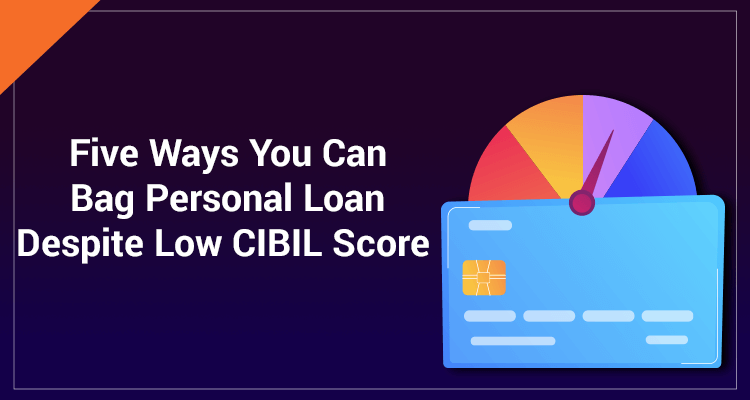 For an individual, a personal loan is a fantastic way to arrange quick cash for covering emergency expenses. But getting a personal loan and that too at a low interest rate depends on various criteria, including the credit score, employment history, age and income of the borrower.
The most important of all eligibility criteria is the credit score, which is also commonly known as the CIBIL score after the first credit bureau that pioneered the concept in India.
The CIBIL score is a figure produced from the borrower's credit history, which includes information about the total amount of debt owed, current open loans, and—most importantly—the repayment history. The credit score has a range of 300 to 900. A score of 750 or more is regarded as favourable for a loan.
Getting a loan can be difficult for people with a credit score of 550 or lower. But there are ways to manage it. Most lenders take an additional matrix into account when issuing loans for those with lower credit scores. These loans, however, could have high interest rates and tougher repayment requirements even if they are approved.
What To Do When Credit Score Is Low?
Check For A Guarantor –
If there is someone to guarantee the loan it helps soothe nerves of the banks and sanction the loan. This, however, is contingent on the guarantor being able to make up for any possible default. The guarantor, of course, will need to have a good credit score to make up for the gap in the primary borrower's score.
Joint Loans –
Two or more people can make a joint application for the loan with someone having a higher CIBIL score. As each applicant will be responsible for repayment, the lender will be assured of return even if one of the applicants were to default.
Don't Seek High Amount –
Lenders get jittery if a person with a low CIBIL score seeks a high amount. They may be inclined to advance the loan if the amount sought is low as it cuts their risks in case of a default.
Proof Of Extra Income –
A prospective borrower may have landed a deal that provides for regular income and this may not reflect in the CIBIL score. If an individual can provide proof of regular income such as salary or rent, lenders may tend to overlook the low CIBIL score.
Seek Changes In Credit Report –
Even if a person missed credit card payment for something as casual as forgetfulness, it can pull down their credit score drastically. Chances are there may be some other data, too, that has been erroneously captured, or a favourable data point that has been missed in the credit report. It may be a good idea to point out any issues to get the score rectified.
Conclusion
A low CIBIL score is often a hurdle in getting personal loans as these debts don't require a collateral. But many lenders do offer a personal loan even if the score is low, albeit at a higher interest rate.
So, don't despair in case of a low CIBIL score but explore your options. You could bring in a guarantor or a co-applicant to ease the lender's concerns. You could also apply for a smaller loan or provide the lender with proof of adequate income that covers the loan repayments. Finally, do check for any errors in your credit report.