How To Get Personal Loan Against Cash Salary (Simple 5 Ways)
Personal loan can be useful for a borrower to meet unexpected financial needs. But having a salary in cash form can make it little difficult to get personal loan. Read to know how to get personal loan against cash salary.
10 Oct,2022
12:36 IST
2 views
25 Likes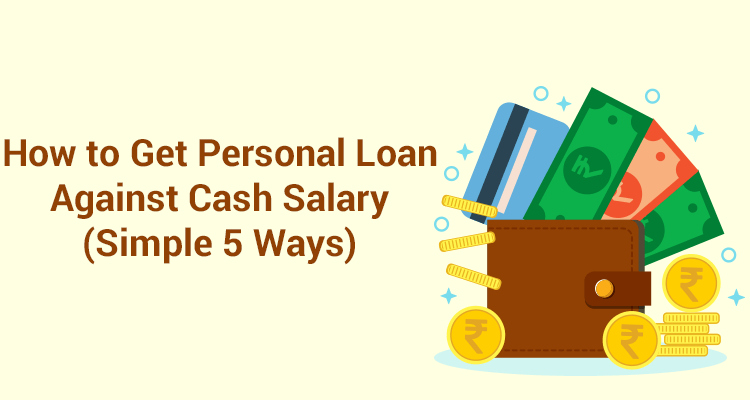 People frequently find themselves in need of money, particularly while dealing with emergencies such as unforeseen medical bills or sudden home repairs, for which one may not readily have cash at hand.
An unsecured personal loan can help people out of these jam during these trying circumstances.
Personal loans usually don't require the borrower to put up a collateral with the lender. These loans also have a faster disbursement time, require minimal documentation and can be used for a variety of purposes.
Getting a personal loan is easy as it can be applied online and requires uploading your salary slip and a few other basic documents. But there can be circumstances where you get your salary in cash, mostly in case of contractual jobs.
So, does that mean you can't get a personal loan? No, you can still get a personal loan on cash salary although it may need slightly more effort than usual.
Here are some of the steps that will help you get personal loan on cash salary:
Flaunt Your CIBIL Score:
Your creditworthiness is captured in the CIBIL score. It is a score based on repayments made by you on past loans, credit card spends etc. A score of around 730 will help you overcome the need for a salary slip for getting that personal loan.
Account Statement:
Chances are high that your cash salary will reflect in your bank statement. You can always show these to lenders to assure them that you have the repayment capabilities and that the cash salary is regular and high enough to clear EMIs and chances of any default.
Joining Or Offer Letter:
You can give a copy of your joining letter or letter of employment to the lenders to assure them that you have a regular job, even though it has cash salary. Some employers may also give salary vouchers that may come handy in getting personal loans on cash salary. Some employers may even be willing to give letter to the effect of regular job on cash salary.
IT Returns:
Laws requires one to file tax returns when income crosses a certain threshold. These income tax returns, too, can be shown as a proof of one's repayment capabilities for personal loan on cash salary.
GST Payments:
Most payments for services rendered will require payment of Goods and Services Tax in India. These also serve as a proof of income even when the payment is made in cash. Many lenders for personal loans against cash salary will take into account these return to gauge your repayment capabilities.
Conclusion
Cash salary may be a hurdle in availing personal loans, but there are ways to assure lenders of your repayment ability.
As personal loans have higher interest rates, lenders will be willing to offer these loans even for cash salary if you can show them one of the above-mentioned documents. Otherwise, you can also keep some asset as collateral and take out a secured personal loan.