6 Ways To Get Business Loan With Low CIBIL Score Or Bad Credit
A Cibil score is considered an important factor by an lender to avail a loan. Read to know how to get loan with bad credit score.
6 Oct,2022
12:17 IST
4 views
3 Likes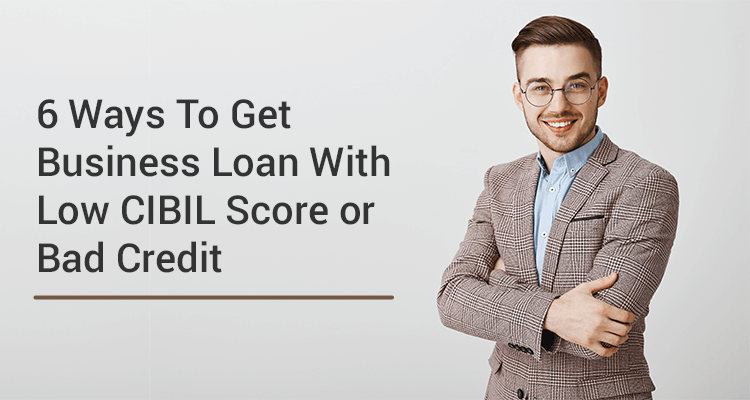 Every small business falls short of money sometime or the other. And each time that happens the business owner may need to borrow some, to keep the enterprise running.
In such a situation a business loan comes in very handy. A business loan is essentially an uncollateralized or even a partly or fully collateralized loan that is used to fund business expenses. This money could be used for anything from meeting the business' working capital needs to paying employee salaries to buying new equipment and raw materials or for that matter even to rent or expand the business premises or operations.
Having said that, to get a business loan, lenders typically require a good credit history so as to be confident that the borrower will pay back the loan and the interest in time.
A lender measures the creditworthiness of a borrower by his or her CIBIL score, which varies from 300 to 900. The CIBIL score gives the lender a very good idea of the borrower's credit history, past repayment record and of all the outstanding loans that they may currently be repaying. A high score makes it easier to take a loan, but a business owner with a bad credit history can also get a business loan in one of the following ways.
Bring In A Co-Applicant:
A business owner with a low CIBIL score could choose to bring in a co-applicant who has a higher credit score. This way the lender would get the confidence that the chances of a late repayment or default are minimised and the risk is mitigated.
Bring In A Guarantor:
The business owner could get someone with a much better credit history to stand as a guarantor for him or her. In this case, if the borrower defaults, the lender can recover the money from the guarantor.
Pledge Collateral:
If the borrower can pledge a collateral like a property, gold, shares or fixed deposits, the lender can invoke the same in case of a non-payment or default. So, if a person has a low credit score, they should try and furnish some asset as collateral.
Secure A Loan Against Machinery:
The owner of a small manufacturing unit could pledge some or all of their machinery or equipment to secure a business loan. In this case if they default, the machinery will be seized by the lender and auctioned off, in order to recover the money.
Invoice Financing:
This involves taking a loan against money outstanding from customers. This can be an effective way to get a business loan especially if the business has a good turnover and customer base, as that would tell the lender the business enjoys a healthy cash flow and that future payments will help the owner pay back the money.
Vendor Financing:
This is basically money lent by a vendor to a business, who, in turn, uses that to buy their products and services. This is also called trade credit and can take the form of deferred loans from the vendor.
Conclusion
As is evident, even if you have a less than ideal credit history you can still avail a business loan for your enterprise.
While it is ideal to have a good CIBIL score, a bad credit history is not necessarily a deterrent when it comes to borrowing cash to grow or sustain your business or to keep it running during a difficult phase.