3 Ways To Develop Your Career Through A Personal Loan
One of the simplest and most well-liked methods of obtaining ready cash to cover unforeseen needs is a personal loan. Read to know about the ways to develop your career through personal loan.
11 Jan,2023
11:49 IST
960 Views
491 Likes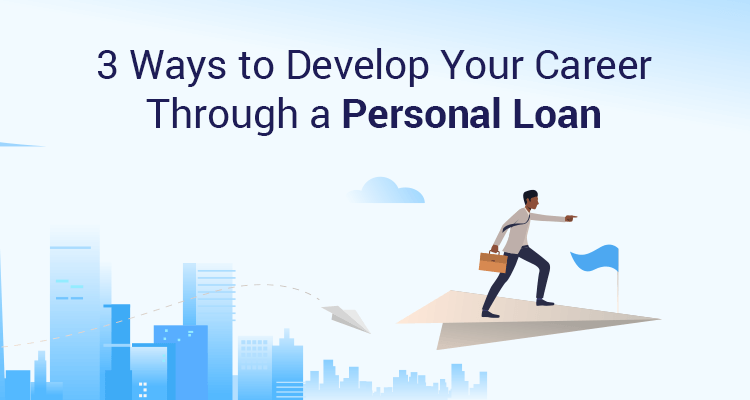 A personal loan is one of the easiest and most popular ways of getting some ready cash to meet unforeseen expenses. A personal loan has come to become a credit option of choice for many borrowers, as it needs no collateral and can be availed with minimal paperwork.
Moreover, the entire process of taking out a personal loan—from application to disbursement to repayment—can be completed online from anywhere without even having to visit the lender's branch.
Having said that, few people realise that money from a personal loan can also be used to further one's career growth. One can do this by paying for a training program or higher education by availing a personal loan.
In fact, such an expense can be a great investment on oneself and can pay for itself over time as skilling up might lead the borrower to achieve a higher income, which could be enough to offset the cost of borrowing.
There are several ways in which access to extra money via a personal loan can help one's professional growth and earnings. Some of these include:
Investment In Skills:
As one invests in upskilling oneself, the chances of earning a higher income increase. Moreover, one can also rise higher up in the hierarchy and gain a more respectable position in the organisation one works for as well as in society in general. Upskilling can also help one launch one's own business and become one's own boss and help generate employment for more people.
Generate Passive Income:
A personal loan can provide quick cash, which one can invest wisely to begin generating some passive income that can come in handy over time. Most middle-class people do not have enough of an investible surplus to begin generating substantial passive income, so they can take out a personal loan and invest the money wisely so as to begin their investment journey. This passive income can come in handy in case one is looking to change jobs, and wants the period of transition, when there is disruption of income, to be smooth and hassle free.
Financial Backup:
Even if one does not invest the money, a personal loan gives enough cushion to keep paying one's bills while one is transitioning into a new job. In such a case, money from a personal loan can help one get some extra runway so that one can spend enough time and energy to get that dream job without having to worry about bills.
Apart from these, a personal loan is also helpful as it can help one, say, get a wardrobe overhaul, which could be essential when it comes to operating in a work environment as several jobs require a person to dress up well, and that can cost a lot of money. Moreover, a professional work wardrobe helps one become presentable for interviews and meetings.
The money from a personal loan can also be used to get help to take care of daily chores, so that one has enough time to focus on upskilling oneself. This way a personal loan can help one buy time which would otherwise have taken away from one's goal.
Conclusion
You can use money from a personal loan not just to fund your immediate needs but also to add to your skills, which, in turn, can better your job prospects. In this way, a personal loan can help you rise up the ladder quicker than some of your peers.
You should, however, make sure that while availing a personal loan, you approach only the most trusted lenders in the market that can offer the best deal in terms of the interest rate as well as other value-added services like online processing, easier repayment options and backend support.