4 Useful Tips To Plan The Repayment Of Your Business Loan
Every business needs financial support at an initial stage of a business. Read to know about the useful tips to plan repayment of your business loan.
11 Jan,2023
12:44 IST
1092 Views
403 Likes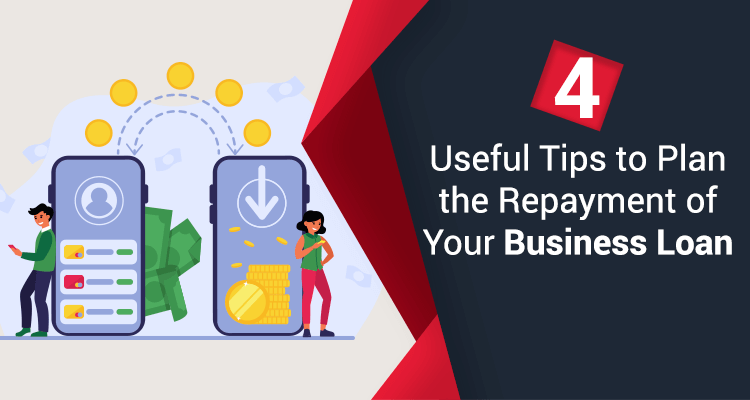 Any business requires funding right from the beginning, whether it is for production and building inventory or even for routine tasks such as paying employees' salaries and clearing vendors' debts. Financing is also needed updating machinery, switching to more efficient technologies, and testing out novel ideas in the marketplace.
A number of banks and non-banking financing companies offer secured and unsecured business loans that can help small as well as big businesses in expanding their operations. As the business stablises and starts generating recurring revenue and profit, one can begin to repay the business loan in order to strengthen their credit profile and lower the company's liabilities.
Typically, the business loan's principal and interest amounts are paid at regular intervals as agreed at the time of approval. The borrower can also repay the loan ahead of the loan maturity period, but after completing the lender's minimum cutoff date. However, the lender may levy a foreclosure fee in loan prepayment cases.
A borrower can chart out a plan to repay the business loan with ease. All it takes is prudent planning and good financial discipline. Here are some tips that can prove useful if you are repaying a business loan.
Put A Feasible Budget In Place:
One must have clear financial accounts and a feasible roadmap that shows the estimated working capital requirement in the near future. This will help to establish the amount of financing that is required to sustain and grow the business. Any loan comes at an interest rate, which means higher expenditure than the funds raised, so one must borrow wisely to ensure that it can be repaid easily in a time-bound manner.
Ensure Healthy Cash Flow:
After deducting operational costs, cash flow consists of the cash generated from operations, investment, and borrowing. A business may not be able to cover daily operating costs or even pay EMIs without strong cash flows. This is critical to ensure that the loan is repaid on time without any penalty for delay.
Keep Margin Of One Additional EMI In Case Of Emergency:
As in the case of any loan, a business loan also comes at an interest along with penalties for delay or non-payment of the decided repayment plan. Therefore, one must keep aside a part of additional funds from the profit of the business towards repayment of the loan. This can be used in case of any special circumstance when the decided repayment installment cannot be paid. This was felt hard by businesses during the COVID-19 pandemic, which caused unforeseen havoc due to the shutdowns and restrictions. Keeping aside small amounts each month for the repayment of the business loan may also be helpful in repaying the debt faster and strengthening the finances of the firm
Consolidation Of Debt:
Different forms of debt are required to be raised by businesses depending on the requirement at the time. As a result, businesses frequently take out short- and long-term loans over time, which may lead to stress from making multiple payments at different interest rates and at different times. In this scenario, it makes sense to consolidate the debts of the business into a single loan or a smaller number of loans. For this, one can take a single business loan to pay off all obligations. This makes managing money easier and lessens the strain of some obligations with high interest rates.
Conclusion
Repaying the business loan on time not only lowers the business venture's liabilities but also improves its credit history. A good credit history with no missed payments helps a business to qualify for bigger loans in the future with more attractive interest rates. Therefore, business owners must plan prudently a repayment roadmap right from the time they apply for the loan.