Udyam Registration Certificate & its Benefits
Udyam Registration, involves the government sign-off & the provision of an Certificate with a Unique Number. Read to know about Udyam registration.
17 Oct,2022
11:58 IST
5 Views
6 Likes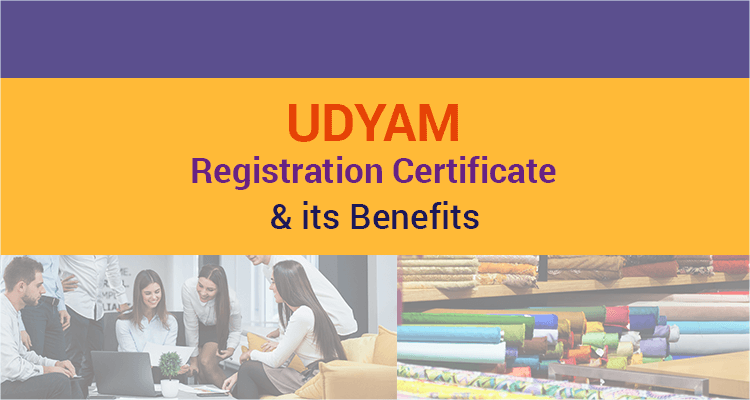 Micro, small and medium enterprises (MSMEs) are the backbone of the Indian economy. India has more than 60 million MSMEs that not only employee more than 100 million people but also account for almost a third of the country's gross domestic product.
Realizing the importance of the MSMEs, the government has over the years taken several steps to support these enterprises—ranging from priority credit by banks to simplifying bureaucratic paperwork in order to make it easier for MSMEs to do business. One such measure is the Udyam Registration Certificate.
The Udyam Registration Certificate is an e-certificate issued by the government for MSMEs. The new registration process was introduced in 2020 after the government revised the definition of MSMEs.
Udyam registration replaces the earlier process of registration for MSMEs. It is mandatory for all MSMEs to take Udyam Registration to avail government benefits.
Udyam registration, which is fully digitised and free of cost, can to be done through the portal https://udyamregistration.gov.in. The registration, which is based on self-declaration, needs only the Aadhaar number. In the case of a company, limited liability partnership or a trust, the organisation will also have to provide the GSTIN and PAN numbers along with Aadhaar.
The Udyam system is fully integrated with Income Tax and GSTIN systems. It can access details of investment and turnover of MSMEs from government databases.
Registration on the portal will provide the MSME an e-certificate on completion of the registration process. Udyam registration will be a permanent registration and basic identification number for an enterprise.
The registration is paperless and based on self-declaration. There is no need to renew the registration. Any number of activities including manufacturing and service can be added in one registration.
Benefits Of Udyam
MSMEs that are registered with Udyam can register on the government's e-marketplace GeM, an online platform for procurement of goods and services by government departments and public sector undertakings.
Udyam registration will also allow MSMEs to register on the SAMADHAAN portal, an online service to address issues relating to any delay in payments.
MSMEs can also come on board the TReDS platform. TReDS is short for Trade Receivables Discounting System. It is basically a platform that allows trading of invoices of receivables.
Udyam registration will also help MSMEs to avail benefits of schemes of the government such as Credit Guarantee Scheme and bid in government procurement.
The registration will make MSMEs eligible for priority sector lending from banks.
Other benefits of registration include:
• Collateral-free loans from banks
• Stamp duty and registration fees waiver
• Concession on interest rate on overdraft
• Reservation of products
• Advantage in government tenders
• Easy bank mortgages and loans
• Tariff and capital subsidies
• Eligible for Credit Linked Capital Subsidy Scheme
• Subsidy patent registration
Conclusion
Udyam registration is a step forward in the government's efforts to make it easier to do business in India. It reduces transaction time and costs for enterprises and open doors for a whole lot of government schemes. Registration also makes it easier for MSMEs to avail business loans from banks and non-banking finance companies.