6 Tips To Get A Loan For Business While Having Bad Credit
A business loan can be helpful for a businesses to run their operations smoothly on daily basis, but Credit score is important to avail a loan. Read to know how to get business loan while having bad credit.
11 Oct,2022
12:18 IST
3 views
26 Likes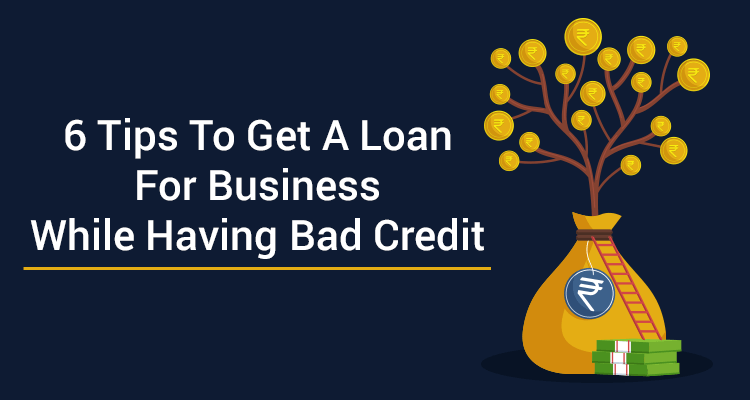 A loan is often necessary to expand a business, especially for a small or medium-sized business, or even to maintain day-to-day operations. A business loan from a bank or non-banking financing company may be helpful in these circumstances. Poor credit history, however, can make it challenging for a borrower to obtain a business loan.
Each bank and non-banking financing company examines the borrower's credit history to determine the risk involved to lower the likelihood of a default. Customers with high credit scores and a long credit history are valued by lenders.
It can be difficult to obtain a loan from conventional banks when your credit score is poor. However, a number of NBFCs and new-generation fintech businesses may provide loans to such businesses. Here are a few pointers to consider if you need a business loan but have poor credit.
1) Joint Loan:
With a co-signer, applicants with a bad credit score may be eligible for a loan. Like a personal guarantor, a co-signer reduces the lender's risk. A co-signer should ideally have a very high income-to-debt ratio and strong credit history. Banks typically accept co-signers who are family members or close friends.
2) Making The Cut-Off:
Before requesting a loan, it would be prudent to conduct a careful study of the qualifying requirements. For instance, different lenders have different cutoffs for credit scores. A loan application with bad credit score may still be approved if the lender is persuaded that a company routinely generates positive cash flow.
3) Offering Collateral:
Offering collateral in the form of real estate, bonds, insurance policies, gold jewellery, or any other valuable item is another option to obtain a loan. Unpaid invoices for outstanding payments are also accepted by lenders as a source of capital. Additionally, choosing secured loans lowers the interest rate.
4) Strong Business Plan:
A thorough plan outlining the business goals, how to put them into practice, and a likely financial picture for the following few years must be developed before applying for business loan. A business roadmap explains to the lender how the company will make money to pay back the loan.
5) New Lending Platforms:
Businesses needing loans can look for NFBCs or fintech lending startups for financial assistance. These may offer easier eligibility criteria, though the interest rates may on the higher side.
6) Govt Schemes:
The government had launched the Credit Guarantee Fund Scheme for Micro and Small Enterprises to make available collateral-free credit to the micro and small enterprise sector. Also, for businesses under trouble there is a Loan Guarantee Scheme for COVID-Affected Sectors.
Conclusion
While it can be difficult to get business loans with bad credit history, it is not impossible. Prospective borrowers with low credit scores may still be approved for loans provided they offer collateral, enlist co-signers and guarantors, or persuade lenders that their business ideas will generate sufficient cash flow to make repayments.