Top 4 Things You Should Know About CIBIL Score To Get A Personal Loan
CIBIL Score plays a important role in a personal loan approval process. Read to know more about the things related to cibil score.
29 Aug,2022
11:28 IST
5 views
3 Likes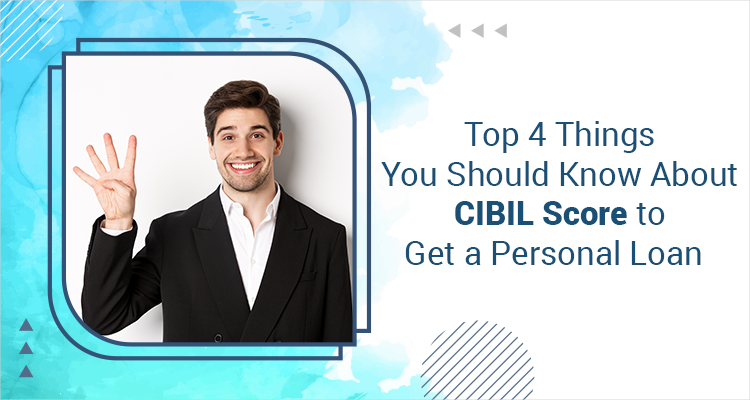 Unforeseen expenses may spring up at any time in a person's life. At such times funding the emergency expenses through a personal loan instead of liquidating an asset can be a more appropriate choice.
Taking a personal loan is usually a simply affair. Most lenders have a well-defined loan application process that includes a set of eligibility criteria that every borrower must meet. One of these parameters is the CIBIL score.
CIBIL Score
A CIBIL score, or a credit score, is a three-digit number provided by credit bureaus such as TransUnion CIBIL, Equifax, HighMark and Experian. The credit score for individuals ranges from 300 to 900. The CIBIL score reflects an individual's credit history and repayment track record; higher the score, better it is while seeking a loan.
Since lenders consider individuals with an inconsistent employment history or poor repayment track record as risky consumers, they use the CIBIL score to assess the creditworthiness of applicants. The sanctioned rate of interest and the loan amount extended to the applicant are also based on the CIBIL score.
Here a few things about the CIBIL score which must be kept in mind while applying for a personal loan:
1) Ideal CIBIL score:
Most lenders prefer a credit score of 750 and above for personal loans as these are unsecured. A high score helps in getting a larger loan at a lower interest rate and in quick time. If the CIBIL score is low, borrowers can work on correcting their repayment track record and gradually increase it before seeking fresh loans.
2) Factors That Affect CIBIL Score:
An individual's payment history with respect to EMIs or credit card dues, income and repayment capacity, and credit utilization ratio are some factors that determine the credit score.
If the borrower has a credit card, paying the entire outstanding balance on time instead of only the minimum amount due is considered a positive sign and vice versa. Similarly, non-payments, late payments or possessing too many credit cards or other loans is a negative signal.
3) Review Credit Report:
The credit bureaus provide one credit report to every borrower for free per year. Borrowers can also buy CIBIL reports as and when required. One important thing to keep in mind is that borrowers shouldn't apply for a loan from too many lenders as this can lead to multiple inquiries and can create a negative impression.
4) Ensure Error-Free Report:
Before applying for a loan, borrowers must thoroughly check their credit reports for discrepancies or errors. For instance, the credit report may show a closed loan as "not closed". Such incorrect information can lead to a bad credit score and even loan rejection. So, borrowers must ensure it is error-free.
Conclusion
Having a good credit score while applying for a personal loan not only improves the chances of loan approval but also helps in getting a loan from a preferred lender at competitive terms and interest rates.
So, applicants should check their credit reports thoroughly and work towards building a healthy credit score, if required.