Know About Tax Benefits On Your Personal Loan
Personal loan can be used to meet various financial needs. Several tax benefits are available for personal loans. Read to know about the tax benefits for personal loan.
7 Nov,2022
06:07 IST
3 views
28 Likes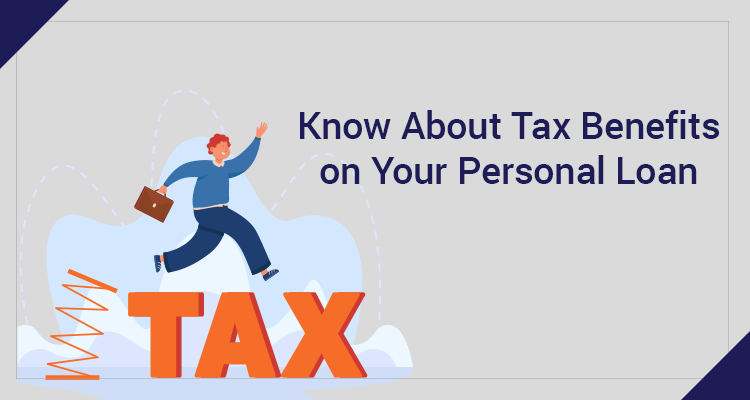 A loan from a bank or a non-banking finance company (NBFC) is one of the quickest and simplest options to meet personal exigencies when someone is running short of money. A personal loan can be used for wide range of purposes, from healthcare expenses and festival shopping to paying college fees, going on a vacation or even to make a down payment to buy an apartment.
Prospective borrowers can qualify for personal loans without putting up any collateral as long as they have a good credit history and a strong credit score. Loan applicants can actually expect receiving a lower interest rate if they have a higher credit score.
Almost all established banks and NBFCs as well as new-age fintech startups offer personal loans. Besides, local moneylenders also provide loans in smaller towns and cities. However, it is advisable to look for a reputed and well-governed lender to take out a loan.
Personal loans are popular not only because of the simplicity of the approval process but also because there are no restrictions on how personal loans can be used. Moreover, there are various ways that personal loans can help borrowers to reduce their tax liability. Here are some instances when taking out a personal loan can result in tax savings:
• Business Expenditures:
A personal loan that is used for business purposes can help an entrepreneur save taxes. This is because the interest paid can be shown as a tax-deductible item in accounts.
• Repaying Loan For A House:
Under income tax laws, homebuyers get deductions on the interest paid on a loan if the money is used to pay for a residential property. This means borrowers can use personal loan to repay their home loan and deduct up to Rs 2 lakh of interest paid from their income in a year. If the borrower falls under the tax bracket of 30%, this can help save almost Rs 60,000 in taxes in a year.
• Purchasing Assets:
If the personal loans is used to buy jewellery or other assets, the interest can be deducted when computing capital gains tax at the time sale. This helps reduce the total tax on the sale of such assets.
Conclusion
In general, personal loans have not been designed to help people save taxes. Instead, personal loans are meant for spending money for personal purposes.
In most cases, the borrower doesn't get any tax benefit by availing a personal loan. For example, if the personal loan is used for paying medical bills or for buying latest gadgets or home appliances, the person doesn't get any tax benefits. Spending money on a vacation also doesn't provide any benefit.
However, if borrowed for a particular end-use, a person can save tax with the help of personal loans. This includes using the loan to repay a debt for a house or buying an asset and even investing the money to grow one's business.