Steps To Verify Your Lender Before Taking A Personal Loan
A personal loan is a very significant financial decision any may impact your financial wealth. Hence, it is very important to verify a lender before taking a loan. Read to know how you can do it.
2 Sep,2022
21:15 IST
6 views
14 Likes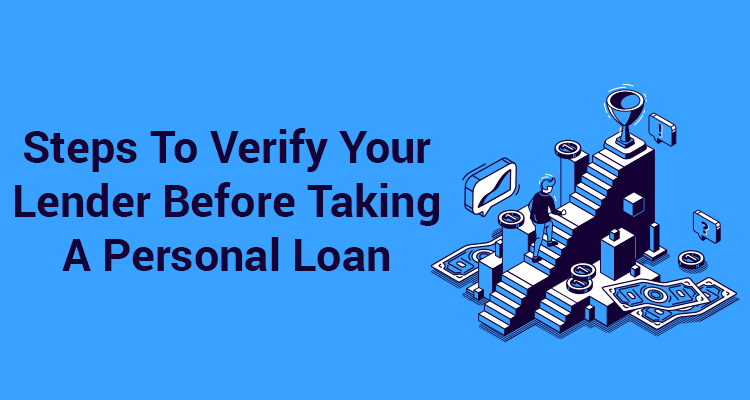 A personal loan is a significant financial decision and may considerably impact your financial wealth. Therefore, verifying a lender before taking a personal loan is essential, and here is how you can do it.
Five Ways To Verify Your Lender Before Taking A Personal Loan
Check The Credibility Of The Lender
Before granting loans, lenders perform KYC to verify the borrower's credibility. Similarly, borrowers need to know their lenders to avoid fraudulent experiences. Borrowers can check registration numbers and the RBI licenses of lenders to check whether they are authorized.
Go Through The Lender's Website
It is crucial to visit the lender's website and check whether the connection to their website is secure, as privacy is important for loan-related matters. If a lender's application does not have a listed website, it may be a red flag.
A trustworthy lender would have all necessary information on the website, such as company identification number, registration certificate, products and service-related details, etc.
Identifying Grievance Redressal
A grievance redressal mechanism allows borrowers to raise complaints and seek solutions for the negative impact created by lenders' activities. A grievance redressal mechanism on the lender's website suggests that they care about the protection of borrowers.
Check The Loan Approval Process
Scammers skip necessary loan approval steps to attract the borrowers and make it look quicker and easier. Some fishy lending websites may even claim they offer quick loan approval without identity or income proof.
No genuine lender would ever approve a loan without such necessary-to-show documents. Therefore, knowing the loan approval process before taking a personal loan is essential.
Check The Lender's Online Reviews
You may check other borrowers' reviews and ratings to see if the lender is credible by all the above safety check parameters. Checking online reviews may help you make a better decision.
Things to consider before taking a personal loan
It is always advisable to take a loan after comparing interest rates and other loan-related terms and conditions of multiple lenders.
Check all costs, including processing, prepayment and late payment charges, to get a clear picture of future expenses and better manage your wealth.
Get an idea of monthly EMI payments using personal loan calculators to check whether you would be able to pay them on time.
All money-related matters are sensitive, and a loan is not an exception. Choosing the wrong lender may lead you to financial distress. Therefore, checking the lender's credibility before applying for a loan is important.
FAQs
Q1. What do lenders look for before giving you loans?
Ans. A credible lender would look at your credit score, collateral value, income, age, payment record, employment background, etc.
Q2. Why is verifying the lender before taking a loan important?
Ans. Knowing the lender and checking his credibility is necessary to prevent getting trapped by fraudulent and gimmicky offers. Plus, comparing different lenders may help you choose the best suitable one for you.