Simple Steps To Make A Budget For Beginners
A budget is a great tool for managing finances, and everyone should ideally have a general idea of one before making any expenses. Want to know simple steps to make budget. Read Now.
12 Jan,2023
13:16 IST
958 Views
391 Likes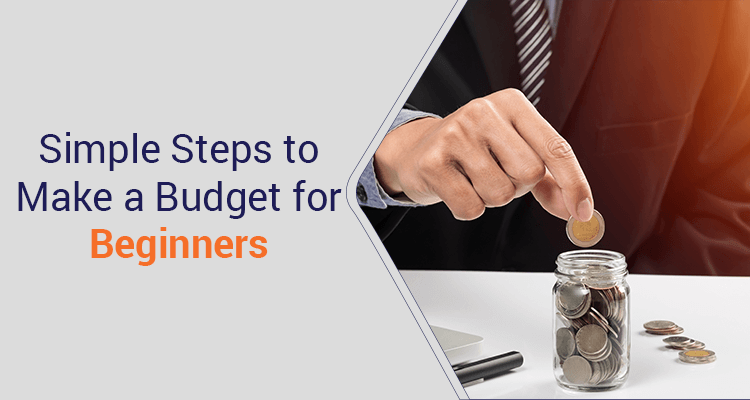 Budgeting is a great way to manage finances and everyone should ideally have a rough idea of something resembling a budget while making any expenses. A budget makes it easier to achieve financial goals, track and cut unnecessary spending, and have a nest egg secured for any future needs.
Once a person creates a budget, it just requires minor updates and adjustments based on any new happenings in one's life. While it might seem challenging to make a budget, it isn't that difficult if you keep the following factors in mind.
Assess All Income:
The first step to making a budget is to identify all of the income you are receiving. This can be income through multiple means or just through a single source. The most common source of income is salary, but you must also consider income from other sources. Any income through freelance work, rent from property, dividends from shares or any other sources should be taken into account. Calculate your net income by deducting taxes, and other employer-provided schemes like employee provident fund.
Calculate Necessary Monthly Expenses:
After determining your net income, you must calculate your monthly expenses. This could be anything that you need to sustain yourself.
You can start off by calculating fixed payments which recur every month and do not change. These can include but are not limited to:
• Rent or housing loan EMIs
• Repayments for other loans such as car or bike loans, or credit cards
• Insurance payments you need to make
• Any utilities such as water, electricity, WiFi, mobile phone data, etc.
• Any subscriptions or memberships you own (gym, music, entertainment, etc.)
After this, calculate variable expenses which could change from month to month. These may include:
• Gas, tolls, parking, etc
• Car and property maintenance
• Entertainment
• Medicines
• Groceries
• Clothes
• Gifts and other miscellaneous expenses
• Children's education
• Salary to household help
Variable expenses aren't easy to calculate, but after you keep recording them for a few months, you can have a rough idea of how much these variable expenses will cost you.
Set Achievable Goals:
The next thing one must do is keep in mind the financial goals. If one follows a budget, it makes achieving the financial goals easier. One must list all their short-term and long-term expenses and plan their budget accordingly. This could include things like repaying mortgages, loans or credit card debt, setting up emergency funds, children's education, a retirement corpus, etc.
Make A Plan:
After having an idea of income, expenses and financial goals, one can go ahead a make a plan to make these goals achievable. Maybe your finances are already being managed well and you have some spare room to spend more or you may have to cut down your expenses to make sure you attain the goals you have listed. This could include setting spending limits on various categories and listing items according to priorities. One must assess what they need and what they want and make plans that way.
Keep Making Adjustments:
After completing the first draft of a budget one must adjust their spending to actually match their budget and gauge whether they can stay on track or not. Moreover, one must keep making adjustments to the budget based on any new occurrences in their life such as a higher salary, the ever-changing needs of your family, changes in personal plans, etc.
Conclusion
Budgeting is a great way to manage finances and must be used by everyone so they have a handle on their financial activity. It might seem tough to make at first but once you get around to recording transactions, making a budget is prudent and much easier than you think.