Should You Go For Festive Season Loan Offers?
In order to meet the short-term demands of businesses, lenders provide festive loans. But should you really go festive season loan offers. Read Now.
10 Jan,2023
12:19 IST
1028 Views
409 Likes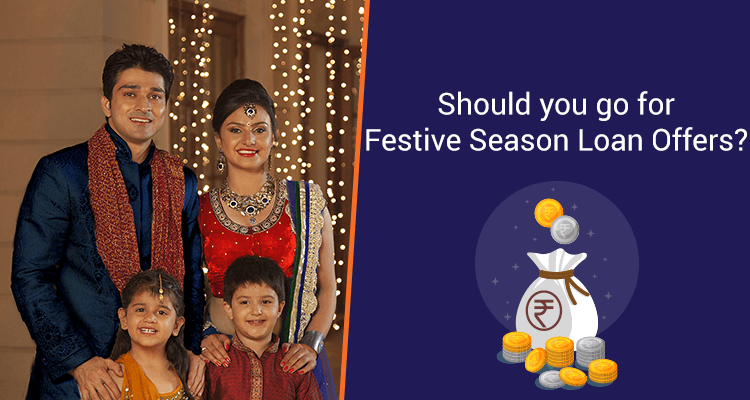 India is a diverse country with a lot of different cultures. This means there is no dearth of festivals in India. Festivals are unique occasions that often signal new beginnings and optimism in everyone. A lot of people generally hold off their transactions for the year and wait for festivals, such as Diwali, to make big purchases for themselves.
This means the festive season sees a lot of financial and retail activity. And to take advantage of such an atmosphere, a lot of retailers and financial institutions offer enticing deals to lure customers and sell their products or services.
Festive Season Loans
The market is swamped with various options during the festive season. These include loan offers by banks and non-banking financial institutions.
Festive season loans generally come with lower interest rates and reduced processing charges, both for individuals and businesses. Businesses look at such loan offerings to meet inventory or service needs during the festive season.
Advantages Of Festive Season Loan Offers
There are several advantages to taking festive season loan offers. These incude:
Lower Interest Rate:
Interest rates on festive season loan offerings tend to be lower than they usually are. This is because the festive season creates higher demand for consumers to buy what they want and gift others. Banks and NBFCs take advantage of such situations by offering cheaper rates to gain market share.
Discounted Products:
The festive season sees a lot of deals and offers even on items and products that don't typically go on sale very often. That means it could make sense to take a loan to buy a car or a laptop during the festive season if the deal is good enough.
Lower Processing Fees:
Banks and NBFCs also offer lower processing fees for festive season loans. Generally, processing fees range from 0.25% to 6% of the loan depending on the type of loan. Some banks and NBFCs even offer flat fees for processing. If the discount on the processing fee is good enough, it makes sense to get a loan during the festive period.
No Collateral:
Festive season loans are often offered without any collateral. This means that the borrower doesn't require an asset to put on the line for the loan. While all festive loans may not be collateral-free, most banks and NBFCs lower such requirements for the festive period.
Faster Approval:
Banks and NBFCs try and ensure loans are approved faster for important festivals.
Disadvantages Of Festive Season Loan Offers
There are some disadvantages to taking festive loan offerings, too.
Encourages Unnecessary Spending:
Spotting an offer and taking it up just because the offer is "too good to pass" may lead to unnecessary purchases during the festive period as there are so many deals. One must weigh the spending in their mind and make sure whether they really want to commit to a loan for the product.
Increases Overall Debt:
No matter how low the interest rates are, a loan is still a loan and will add to your debt. You need to make sure you can absorb the debt and repay the loan with minimal difficulties before committing to one.
Conclusion
The festive season attracts a lot of consumers, and everyone from retailers to real estate companies offer various deals during these periods. This boosts demand for loans during the festive season and increases competition among lenders. Lenders thus tend to modify their regular loan offerings in an attempt to attract more borrowers.
Taking out a loan during the festive season can be prudent, but one must assess one's options to understand whether they really need the loan or the products and services available in the market.