Should You Get A Gold Loan Or Sell Gold When You Need Money
Gold is considered as the best options to raise money at the time of emergency. Individual may choose between opting for a gold loan or selling their gold. Read to know more about it.
16 Sep,2022
10:12 IST
6 Views
13 Likes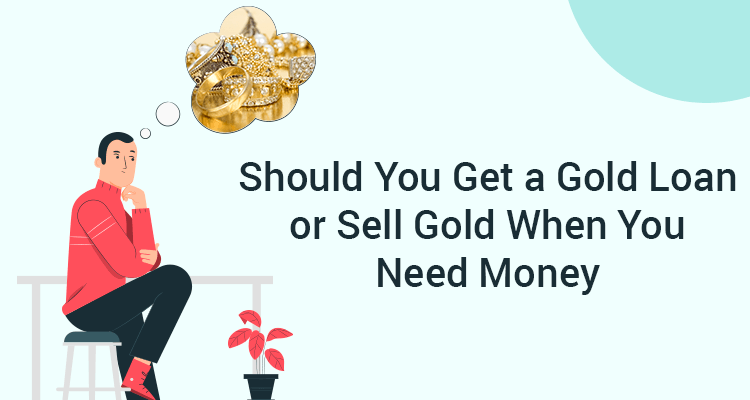 The priceless yellow metal represents prosperous times. In India, gold is considered auspicious in festivals like Dhanteras and Akshay Tritiya, which focus on purchasing gold. However, gold is much more than just a shiny metal; it has a rich history and is much more than a simple commodity.
For those in need of quick cash, people can leverage their gold ornaments. Gold loans or even selling gold are frequently the best options for various economic purposes. However, should you get a gold loan or sell your gold when you need money? This blog discusses the benefits and drawbacks of taking a gold loan or selling the gold to determine the most suitable course of action.
The Factors Involved In Selling Gold
While purchasing gold is regarded as being fortunate, selling gold is not given a similar preference. However, in times of extreme financial need, you cannot rule out the option entirely.
Immediate Cash Rescue Without Any Interest
Selling your gold is the simplest way to get the necessary funds. You can approach any goldsmith, bank, or non-banking financial institution to sell it. The purchasing party immediately releases cash upon releasing the asset.
Losing The Asset
The biggest danger of selling gold is losing the asset. Unquestionably, the asset owner receives an immediate cash rescue but also forfeits the chance to recover the asset.
The Factors Involved In Acquiring A Gold Loan
Obtaining a loan is a liability or adds to your debt. Due to the possibility of incurring additional costs in the form of interest, people frequently hesitate before applying for a loan. However, here are some factors to consider.
Interest Rates
Banks and other financial institutions charge a 10% or higher interest rate on their gold loans. Therefore, compared to selling gold, there is an extra sum paid out of pocket with gold loans.
Loan Acquisition Without Hassle
The gold loan application process does not require extensive credit checks. Furthermore, there are no processing costs, and the interest rates decrease when more collateral is added. The gold loan promises to return your asset upon full payment of the loan. This eliminates the possibility of losing the family legacy or treasure.
In conclusion, if the choice is between selling gold and obtaining a gold loan, it is advised to make a prudent choice based on your priorities. There are benefits and drawbacks to loaning gold and selling it. Whether you prefer to get your asset back or forfeit it completely, you can choose between both funding options.
FAQ
Q1. What gold loan rate per gram is ideal?
Ans. The gold rate per gram fluctuates daily. The same might vary from one lender to another. You must check with the lending authority on the current gold loan rate per gram to evaluate the eligible loan amount.
Q2. What gold loan amount is offered for a gram of gold?
Ans. The sum varies according to the price of gold on the market. You can use an online gold loan calculator to determine the real-time eligible loan amount against your gold ornaments.