Should You Get A Gold Loan or Sell Gold When You Need Money
Gold is a valuable metal which can be use to meet financial needs. Read to know whether you should sell your gold or opt for a gold loan.
28 Oct,2022
07:20 IST
2 views
23 Likes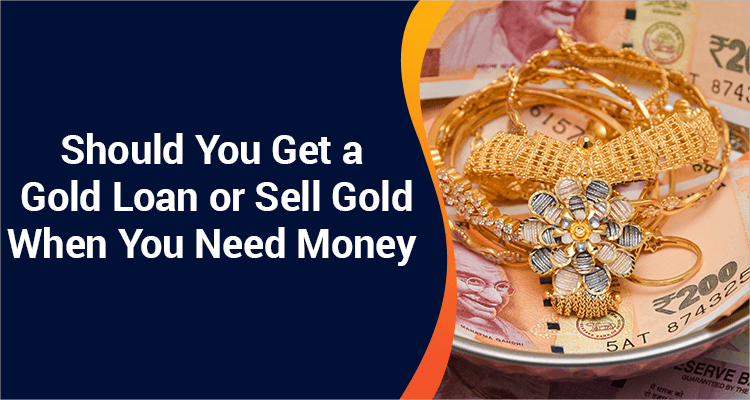 Gold, the glittery yellow metal, remains synonymous with affluence, prosperity, and status. People flaunt it to showcase their wealth. While many still adore gold for its beautiful and rich aesthetics, some recognise its potential as a powerful investment resource.
Gold is like a companion to help you sail through unexpected financial disruptions. Initially, people liquidated their gold assets to meet their financial requirements. However, as financial literacy increased, people started diversifying their use of gold as a crisis fund. This diversification helped popularise modern concepts like gold loans.
So, should you get a gold loan or sell it when you need funds? To make the right choice, you must understand the pros and cons of each option.
Why Should You Choose To Sell Gold For Financial Needs?
Perks
• When you sell your gold in the open market, the merchant offers a price on the total market value of the gold and not a percentage of it. The merchant weighs and tests the purity of the gold before calculating the price.
• The gold price depends on the market value prevailing on that specific day. Once calculated, the merchant cuts the making charges and disburses the balance to you.
• If you choose to sell your gold, you can save yourself from the extra burden of the interest payment attached to gold loans.
Limitations
• The lender deprives you of making charges, thereby reducing the overall value of the gold.
• Merchants can scam you by modifying the gold weight or purity and thus reduce its value.
Why Choose Gold Loans For Quick Cash?
Perks
• Swift Loans:
Technology intervention helps lenders to reduce the burden of complicated paperwork involved in loan sanctioning. Upon successfully verifying your ID proofs and other important documents, the lender quickly processes your loan amount into your account.
• Flexible Repayment Schemes:
Gold loan providers offer several repayment options. You can pay the loan in whole or part based on your financial ability. Lenders also allow you to choose your EMI payment schedules.
• Low-Interest Rate:
To secure a gold loan, you must pledge your gold assets as collateral with financial institutions. As these are secured loans, the interest rate is low. However, various factors influence the interest rate and, thereby, your EMI amount.
• Collateral Safety:
Lending institutions ensure the complete safety of the customers' pledged gold assets. They store assets in specialised lockers. Some lenders also offer insurance coverage for the pledged assets.
• Less Scrutiny:
Gold loans are secured loans. The lenders do not explicitly rely on your credit history when assessing your eligibility. You can be an unemployed individual and still procure a gold loan.
Limitations
• In the case of gold loans, financial institutions only offer 75%-90% of the gold's worth as the loan amount.
• Financial institutions can charge interest as high as 15% annually on gold loans.
• Sometimes, people fail to pay interest and loan amounts within the stipulated time. In such cases, the lender seizes the collateralised gold and liquidates it to secure the pending loan amount.
Gold is one of the most trustworthy investment resources during financial crunches. However, choosing between gold loans and selling gold to meet cash requirements depends on your preference. Each option has perks and limitations, and you must consider them before making an appropriate choice.
FAQs:
Q1. What to do before selling gold?
Ans. Before you plan to sell your gold, test its purity, weight, and market rate. It will help you assess the approximate loan amount you can fetch from the lender.
Q2. Where can I use my gold loan?
Ans. Unlike other collateral-based loans, there are no restrictions on the purpose of using the gold loan. Therefore, you can spend the amount to cover any expense.