SFURTI Scheme: Full Form, MSME, Subsidy, Who Will Apply?
SFURTI scheme is an initiative started to promote the development of clusters in India. To know more details regarding the scheme. Read Now.
22 Nov,2022
09:17 IST
8 Views
71 Likes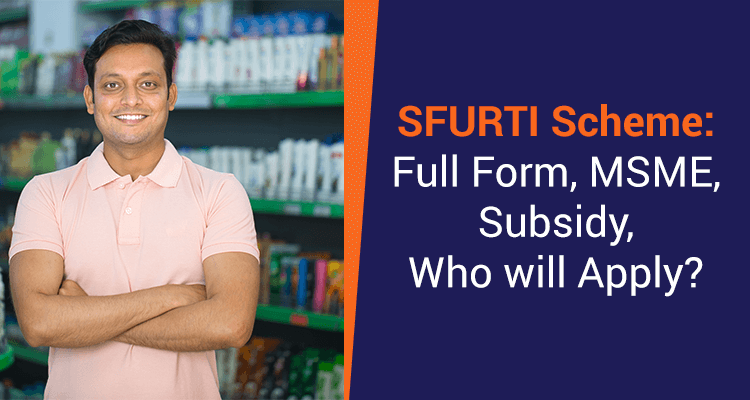 Micro, small and medium enterprises (MSMEs) form the backbone of the Indian economy. Not only do a majority of the businesses fall in the MSME category, the sector also employs a bulk of the non-agricultural population in the country.
Little wonder, then, that the government has taken quite a few steps to encourage the MSME sector, with the intent of not only providing employment to millions of people but also to help spur growth in India's manufacturing sector.
The SFURTI Scheme
One of the marquee government schemes targeted at the MSME sector is the Scheme of Fund for Registration of Traditional Industries (SFURTI), which was launched in 2005 by the ministry of MSMEs with the aim of providing cluster development to such small units.
SFURTI Scheme Main Objective
The main objective of the SFURTI scheme is to allow traditional industries to become more competitive and profitable. This is important as these industries employ a large number of workers in India and so the government wants them to become productive and economically stable.
As part of the SFURTI scheme, the government established a set of 'common facility centers' with the objective of generating more sustainable employment opportunities in the country, especially in the hinterland, where most of these businesses are based out of.
The SFURTI Scheme Aims To:
1. Organise traditional artisans and local industries into clusters
2. Generate employment opportunities for these artisans
3. Focus on developing new products, innovative designs, better packaging techniques
4. Build a new and improved marketing infrastructure
5. Provide training and skill development to artisans
6. Provide better quality tools for these artisans and shared facilities where they can work
7. Involve various other stakeholders as part of the clusters
8. Identify potential customers and address their needs
9. Make strategies to sell the products produced by these artisans on e-commerce websites
10. Replace supply-driven sales models with market driven models
11. Focus on branding, pricing and the product mix so as to help augment sales
12. Establish multi-product clusters and set up an integrated value chain.
SFURTI Scheme Focus Areas
The SFURTI scheme focuses on sectors such as bamboo, honey and khadi, with the objective of supporting rural entrepreneurs and artisans.
Financial Assistance By The Government
The government provides financial assistance for the SFURTI scheme as under:
| | |
| --- | --- |
| Type of clusters | Budget per Cluster |
| Heritage clusters with 1,000-2,500 artisans | Rs 8 crore |
| Major clusters with 500 – 1000 artisans | Rs 3 crore |
| Mini clusters up to 500 artisans | Rs 1 crore |
This financial aid is provided by nodal agencies like the Khadi and Village Industries Commission as well as the Coir Board.
Who Can Apply For The SFURTI Scheme?
The following types of applicants can apply for the SFURTI scheme:
• Central and state government institutions
• Non-government organizations
• Semi-government institutions
• State and central govt. field functionaries
• Panchayati raj institutions
• Corporate social responsibility foundations
• Private sector with special SPVs.
Conclusion
If you are an MSME involved in a traditional business and have a team of artisans, the SFURTI scheme can do your enterprise a world of good.
The SFURTI scheme can help you scale your business, find new markets and develop new sales models that are best suited to your business and can also help address your customer needs effectively and efficiently. This can, in turn, help you retain your customers and also grow your customer base over time.