Reasons To Take A Personal Loan For Doctors 
Thinking to apply for Doctor Loan? Read to know the reasons why doctors should avail personal loan as best financial solution to start their own practice or business
15 Nov,2022
13:15 IST
2 views
18 Likes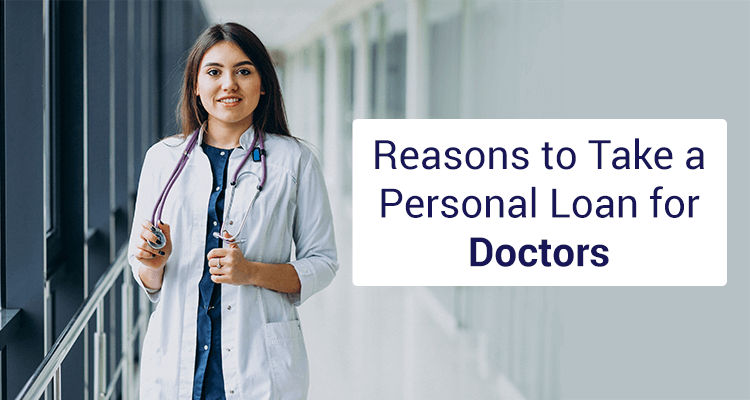 Doctors will be the community's continual support system, whether it's the common cold or the invasion of a new virus. Most physicians' revenue from their private clinic(s) or hospital may take some time to settle. Therefore, it is common for doctors to require outside financial assistance at particular intervals. A personal loan for physicians is the most excellent solution in such cases. Here are the benefits of acquiring a personal loan for doctors.
• Achieving Personal Life Objectives
Whether it's a wedding, a house remodels, or a luxury vacation, a personal loan may help doctors satisfy any financial obligations at any point in their careers. A personal loan is also a form of flexible financing that enables doctors to fund business-related expenditures such as clinic growth, additional hardware, capital investments, operational costs, and more.
• Existing Debt Consolidation
The best approach to avoid debt is to find methods to consolidate it. Applying for a personal loan aids in this process since it allows you to repay a single loan rather than many payments for, say, a mortgage, college loan, credit card obligations, etc. When consolidating current debt, a personal loan is ideal for doctors since the lender does not scrutinise the ultimate use of the cash granted. Furthermore, you enhance your credit rating by making a single payment rather than many instalments. With a good credit history, doctors can obtain other loans when needed.
• Higher Education Funding
For doctors, an MBBS degree does not signify the end of the road. The occupation necessitates expertise and ongoing education. These specialised programs can be rather costly, specifically if pursued abroad. Whilst the education loan may help with tuition costs, a personal loan is far more suited to handle day-to-day living expenses. Personal loans for doctors don't require collateral. You may also apply for personal loans online with minimum documentation and a speedy disbursement procedure.
• Meeting Unexpected Expenses
The future is uncertain. As a result, various scenarios, such as domestic repairs, automobile failures or urgent travel, medical costs, and so on, may arise where even physicians may need to cover unanticipated expenditures. In such cases, obtaining an immediate personal loan is the best alternative.
A personal loan is undoubtedly your best choice if you need a sudden infusion of income, whether you're a doctor or work in any other industry. A strong credit score entitles you to additional perks like a more extended payback period and lowers interest rates.
FAQs:
Q.1: Should you choose a bank or NBFC for a doctor loan?
Ans: NBFCs are known to provide the most competitive interest rates and other offers compared to banks. Compare various lenders before making the appropriate choice.
Q.2: What is the distinction between a professional and a personal loan for doctors?
Ans: If you have big goals, acquire a professional loan rather than a personal loan. But a personal loan is ideal if you need a modest amount.