4 Reasons For Personal Loan Rejection And How To Avoid Them
The demand for personal loan is growing due to the easy availability and process. Read to know the reason why personal loan gets rejected and how to avoid them.
6 Oct,2022
12:40 IST
3 views
30 Likes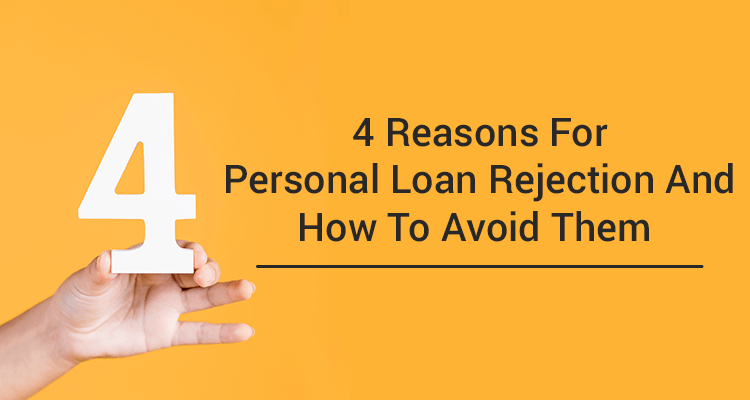 Coping with a financial crisis can be stressful. But at times a simple solution like a personal loan can be of great help to deal with the crisis.
A personal loan is an unsecured loan offered by commercial banks, cooperative banks and non-banking finance companies to cover a variety of personal expenses like home renovation and medical expenses.
While most lenders usually approve the personal loan easily, occasionally they may reject loan applications in case borrowers fail to meet the eligibility criteria. Here are a few key reasons for a loan refusal.
Low Credit Score
The credit score reflects the creditworthiness of the borrower and is the first parameter that every lender considers while offering a loan. Usually, most banks prefer candidates with a credit score of 750 and above while offering a personal loan. A high credit score not only helps to secure a loan quickly but also gives the borrower some room for negotiating a lower interest rate.
For individuals with a credit score of less than 550, getting a loan approved as per the expected terms may be a bit challenging. In such cases, securing a personal loan with a collateral or fixed deposits can be considered.
Individuals with no credit history can approach a lender with whom they have a salary account or an existing relationship.
Large Existing Debts
Too many pending loans is a red flag for lenders. Excessive debt increases the risk of default and this is reason enough for a bank to refuse a loan. Applicants with too many loans in the past, irrespective of whether they have been paid on time, can be considered credit hungry and risky candidates.
Banks usually run a check on the nature of past loans. Sometimes borrowers minimise the pending debt repayments to get a higher loan amount. But since every lender checks the credit report, such actions can backfire.
Similarly, if one avails multiple loans, the number of unsecured loans must be less than the secured loans.
Low Income Or Unstable Job
Lenders always assess the borrower's ability to repay a loan. Insufficient income is a cause for concern. It raises doubts about the borrower's capacity to repay back the loan.
A stable income assures the lender about the timely payment of EMIs. So, individuals with a record of frequent job change are deemed as risky clients. For similar reasons, a person with an unstable income source is likely to face a loan rejection from a bank.
Incomplete Documents
Submitting incomplete or wrong supportive documents such as financial statements, etc., may lead to loan rejection. The loan application form is equally important as other supportive documents. Furnishing wrong name, address or any other personal details is a hindrance for lenders. If the lender is unable to verify the borrower's credentials, the chances of loan approval are bleak.
Conclusion
If a borrower faces rejection of their loan application, the first thing to do is to step back and find out why. Identifying the root cause and rectifying the problem avoids the chances of rejection in the future. For instance, if the credit score is low, the prospective borrower should take actions to improve it. Borrowers should also take great care while submitting the necessary documents and ensure they have a stable income to repay the loan.