Fast Business Loans: Top Pros and Cons You Must Consider
Business loan is a loan helps the businesses to solve the financial problems. Such loan can also have certain pros and cons, so choose wisely.
18 Nov,2022
12:23 IST
9 views
7 Likes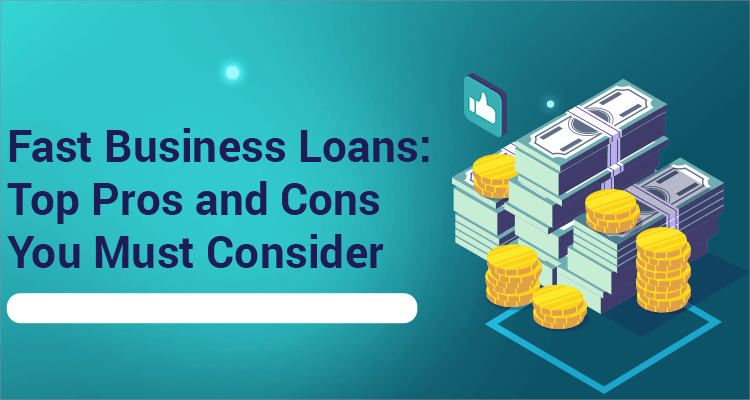 For an entrepreneur, a business loan is often critical to making the enterprise successful. A business loan can help not just to expand the business with new machinery or a new office space or plant but also hire and pay salaries to people, buy raw materials and to tide over the short-term mismatch between, costs of running operations and the payment due from clients and merchants.
Business loans come in two broad forms, though these can then be subdivided into several sub-heads depending on the purpose of the loan and so on.
These are:
• Secured Business Loan:
This can be availed against an asset of value such as a piece of land, a residential property, a factory, office building and machinery.
• Unsecured Business Loan:
This is where a borrower does not have to furnish any collateral or security. This is a form of fast business loan.
Pros Of Fast Business Loans
These loans offer a few advantages that can make them ideal for some borrowers depending on their requirements.
1. Swift Approval:
These loans are provided much more quickly as the lender essentially assesses the repaying capacity of the borrower based on the cash flows of the business and past borrowing behaviour of the owners and co-owners.
2. No Collateral:
It does not require a businessperson to secure the borrowings against any asset owned by the company or the borrower(s). This provides comfort that your assets remain lien free and do not face the risk of foreclosure if you do happen to miss payments because of any unforeseen circumstances.
On the flip side, if you do not own an asset that can be mortgaged, then this is the only form of loan you have at your disposal. Moreover, the loan amount is not dependent on the security value and if your income is on the higher side, you can borrow a larger sum.
Cons Of Fast Business Loans
These business loans are not meant for everyone because of certain disadvantages. So, if one has the resources and is not pressed for time, one should reconsider taking such loans.
1. Higher Rate:
The lender takes on a higher risk by lending without collateral and thereby charges a higher interest rate to cover part of the risk. So, you need to pay a higher interest for the same loan amount if you opt for a fast unsecured loan compared to a collateral-backed loan.
2. Tenure:
Given the risk of these unsecured loans, lenders also offer them only for short durations. Hence, if one is looking to avail a long-term loan given the repaying capacity from future cash flows, one should think hard before choosing this type of loan.
Conclusion
A fast loan for meeting business needs has both advantages and disadvantages. It can be a hassle-free and quick process but also comes tagged with higher charges and restricted duration of the borrowing and repayment period.
So, borrowers should evaluate their requirements and keep these pros and cons in mind before taking a fast business loan.