10 Most Profitable Wholesale Business Ideas In India
For any entrepreneur, a right wholesale business can be highly profitable. Read to know about 10 most profitable wholesale business ideas in India.
19 Oct,2022
12:53 IST
6 views
7 Likes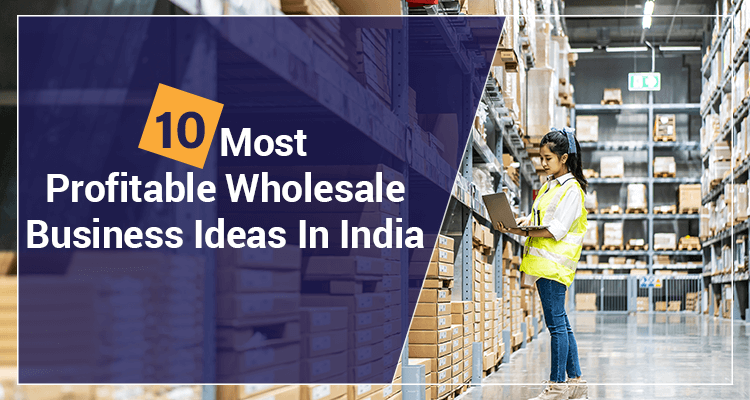 Wholesale businesses have become the backbone of the Indian retail market, where traders and distributors earn good profits by working as a mediator between the producer and end-customers. However, you must choose the most profitable wholesale business among hundreds of business ideas.
10 Most Profitable Wholesale Businesses
Here are the ten most profitable wholesale businesses you can start to earn good revenue and profits:
1. Textiles Business
You can start a wholesale textile business to distribute a wide range of products, such as fabrics, yarns, threads, etc. However, you must partner with an experienced and reliable supplier.
2. Agritech Business
You can analyse the agriculture market in India and consider starting an agritech business as a wholesale business idea. You can sell equipment used in the agriculture business backed by the latest technology.
3. Furniture Business
Most households need furniture, and with numerous residences and houses constructed today, there is a higher demand. A good furniture wholesale business is easy to work with and required in all the country's rural and urban areas, making it a commendable business avenue.
4. Medical Equipment
The need for medical equipment is constant. You can start a medical equipment wholesale business to supply to essential medical institutions. You can network with numerous hospital chains to sell medical equipment.
5. FMCG Products
People need these products daily and in immense volumes. However, you will need a good network of suppliers to start such a business.
6. Building and Construction
You can start a business to trade building and construction items wholesale. By creating a network of builders, you can provide such items for every project they undertake.
7. Jewellery Trading
You can start a business selling pieces of jewellery wholesale to either jewellers or retailers to make a profit. It will require sourcing good quality precious metals.
8. Organic Food
The demand for organic food has been increasing steadily. A wholesale business in organic food can prove to be highly profitable. However, you should ensure that the quality of the organic food is superior and from a licensed supplier.
9. Stationery Business
Stationery goods are needed in every academic or professional setting, such as a university, art museum, or office. You can start a wholesale business in stationary as it is recession-proof for its great demand.
10. Nuts and Grains
Nuts and grains are always in high demand and are brought in huge volumes by distributors and retailers. You can start a business dealing in wholesale and earn profits for selling various nuts or grains.
Conclusion:
Wholesale businesses trade in immense volumes that can provide a good profit margin. You can start any of the above-mentioned wholesale businesses by taking a business loan from a reputed lender.
FAQs:
Q.1: What is the interest rate on business loans?
Ans: Interest rates on business loans start at 11.25% per annum.
Q2. Do I need collateral to take a business loan?
Ans: No, business loans do not require pledging any asset as collateral to take the business loan.