Pre-Approved Personal Loan Eligibility And Advantages
Personal loan is very useful to overcome the financial crunches at the time of emergency. What is a pre-approved personal loan? Read to know more about the eligibility and advantages of pre-approved loan.
1 Sep,2022
11:22 IST
7 Views
10 Likes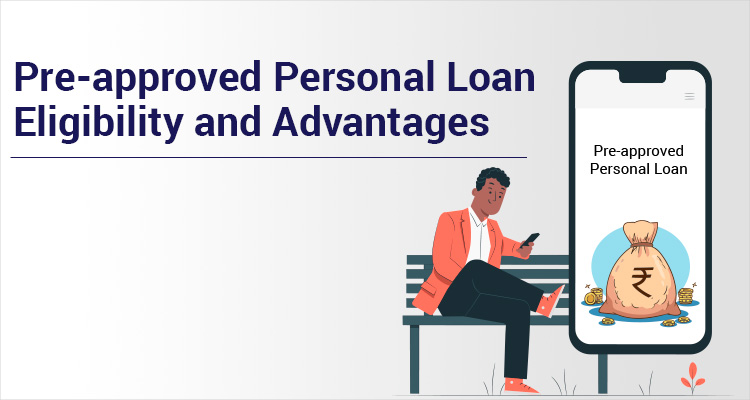 Personal loans are excellent for meeting short-term expenses. A regular loan application process means submitting a large number of documents and meeting the strict eligibility criteria of the lenders. But what if a bank or a non-banking finance company (NBFC) readily offers a pre-approved personal loan?
What Is A Pre-Approved Loan?
A pre-approved personal loan is an instant loan facility offered to selected customers on the basis of their credit history, income, employer's profile, etc. These loans are mainly offered to customers with steady incomes and a clean track record of debt repayment.
The loan offers are usually available only for a specific period of time. The money availed can be used to meet any financial exigencies and even for leisure purposes. But borrowers must check for processing fees and charges associated with them.
Pre-Approved Personal Loan Eligibility
Like any other loans, individuals need to fulfill certain eligibility criteria for a pre-qualified personal loan:
• Steady Income:
Banks usually look for customers with a steady income source. So, if you have a salary account with a bank, it would automatically know that money is being credited into the account every month. This gives the bank assurance that you as a borrower have the resources to repay a loan.
• Liabilities:
Banks also check for current debts and obligations to evaluate if the customer can manage to pay off the loan amount.
Some yardsticks that banks and NBFCs consider are:
• Savings in bank account or fixed deposits
• Existing relationship with the bank
• Years of work experience
• Age, location and professional qualifications
Advantages Of Pre-Approved Personal Loan
Some of the advantages of pre-approved loans are:
• Instant Funds:
The processing time of a pre-approved personal loan for an existing bank customer is hardly a few minutes. It is because the bank is already aware of the repayment track record, income level, savings, etc. and based on that is ready with an eligible amount of credit.
The processing time for other customers may be slightly longer but the overall loan disbursal process is much faster than a regular loan application process.
• Lower Interest Rate:
Pre-approved personal loans are always extended to selected customers with good credit profile. So, these loans carry a lower interest rate.
• Flexibility Of Use And Tenor:
All pre-approved loans have flexible end-usage. The money availed can be used for any personal or professional financial need. Most banks also allow customers to choose the repayment term as per their convenience.
• Minimal Documentation:
Banks hardly ask for additional documents for existing customers. But new customers may need to submit basic documents like proofs of identity, income and address.
• Collateral-Free:
Banks require no security for a pre-approved loan.
Conclusion
A pre-approved personal loan is a collateral-free loan offered by lenders to customers with a strong credit score and a good repayment history. However, pre-approval does not always guarantee a loan as it may get rejected for providing incorrect information or for not meeting the eligibility criteria during the verification process.
Although pre-approved loans have a bundle of benefits, it is important for borrowers to evaluate their financial requirements and avail a loan only if they really need the money.