Is It Possible To Get Two Personal Loans At Same Time
Personal loan have become one of the most common factors to raise money at the time of emergency. Read to know about the possibility of getting two loans at a same time.
27 Oct,2022
16:52 IST
18 Views
5 Likes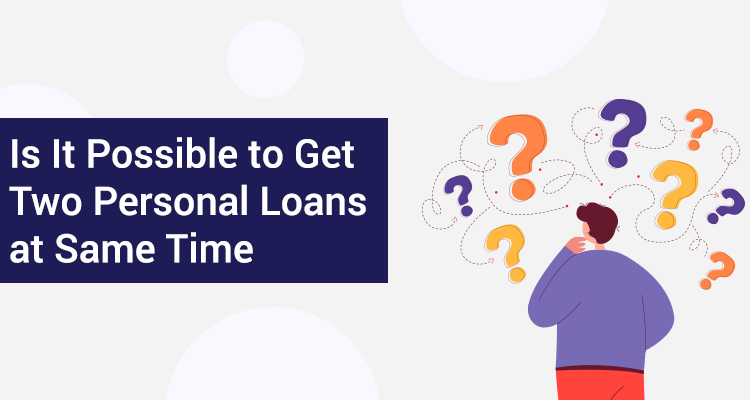 With the global banking system shifting toward digitisation, people have ample opportunities to utilise financial tools at their disposal. Personal loans are the most common resources that help meet cash requirements. Additionally, adequate capital flow helps you tackle unpredictable expenses requiring immediate funds.
But is it possible to take two personal loans simultaneously? Banks and financial institutions allow you to take two personal loans simultaneously. Though every loan increases your liabilities, it also helps you to deal with financial crunches. This article details the requirements for a personal loan and whether it's suitable to apply for two loans simultaneously.
What Is A Personal Loan?
A personal loan helps you meet personal expenses. These loans can be secured or unsecured, depending on whether you fulfil the eligibility criteria. With secured personal loans, you need to deposit collateral with the lender. However, unsecured personal loans do not require submitting collateral.
Lenders bear high risks with unsecured loans, so they charge a higher interest rate to cover this risk. The interest rate depends on several parameters, such as
• Credit score
• Loan amount
• Income status
• Loan purpose
• Loan tenure
How To Get Two Personal Loans Simultaneously?
Before accepting personal loans, lending institutions consider several crucial factors, including your current income, outstanding liabilities, employment status, etc. They tend to act more cautiously in the case of a second personal loan. They carefully assess your ability to repay the existing personal loan before approving any new loan. Lenders reject loan applications if they have any reason to assume that you won't be able to pay back two loans.
However, once you meet the lender's eligibility requirements, they approve your application.
Is It Advisable To Take A Second Personal Loan From A New Lender?
Taking a second personal loan, alongside the first, from a different lender can be a viable choice. However, it makes no difference whether you approach the same or a different lender if you do not fulfil the personal loan eligibility requirements. Since you are presently repaying a previous loan, lenders pay special attention to all these factors before accepting your second loan application.
Top-Up Loans: A Reliable Solution
Top-up loans are a viable solution if you plan to take a second personal loan while managing an existing personal loan liability. With these loans, you can increase your existing personal loan limit. Some financial institutions allow you to merge your current loan with the top-up loan or treat them as individual liabilities. The limit for top-up loans depends entirely on your credit score, liabilities, and income status. This loan type will reduce your burden and help you deal with financial problems quickly.
Conclusion
You can take two personal loans or switch to top-up loans to tackle urgent expenses that otherwise could drain your savings. It is easy to get a second loan if you satisfy the lender's eligibility requirements. Thus, if you plan to take multiple personal loans, ensure that your income flow and credit history are satisfactory for the lenders to qualify your loan application.
FAQs:
Q1. Which is better, a secured or an unsecured personal loan?
Ans. The choice depends on the loan eligibility criteria. If you fulfil the conditions and have a good credit score, you can choose to take an unsecured loan with lower interest rates. However, if you do not meet the eligibility criteria, you can pledge collateral to qualify for the loan, which could lower your loan interest rate.
Q2. How to improve your credit score?
Ans. A good loan repayment schedule is necessary to increase your credit score.