Key Points To Understand About Gold Loan Interest Rates
Gold loan is a secured loan against your gold jewellery or gold item. Getting a gold loan is easy but borrower should understand how interest rate work.
27 Oct,2022
17:26 IST
3 views
89 Likes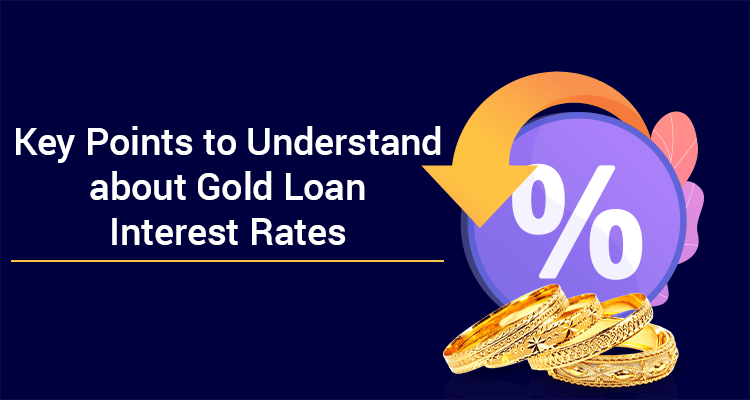 Gold loans are secured loans that a borrower acquires from a lender in exchange for gold jewellery or other items. Lenders often approve you for a loan in an amount equivalent to a portion of the gold's worth. Once you repay the loan in monthly instalments, the lender returns your gold items.
However, the gold loan interest rate directly impacts your repayment plans. Therefore, It is crucial to determine the factors that affect gold loan interest rates.
Factors Influencing Gold Loan Interest Rates
When you apply for a gold loan, the financial institution considers the loan amount you require, your credit rating, monthly income, external benchmarking, and more. The fundamental points influencing gold loan interest rates are as follows.
1. Principal Amount
The loan amount you require is vital in deciding your gold loan interest rate. However, your pledged gold jewellery value will determine the total loan amount. Lenders often grant loans ranging from 60% to 89% of the total gold asset value.
2. Monthly Source of Income
The qualifying requirements for a gold loan are fewer than unsecured loans like personal loans. However, lenders investigate your source of income before settling on a gold loan interest rate.
If you are debt-free and have a good income, you will qualify for a loan with a lower interest rate since it reveals your credibility to repay the loan on schedule. A low income would indicate a limited ability to repay, which can affect the loan amount and interest rate.
3. Methods of Comparison
Benchmarking is classified into two types: Marginal Cost of Funds Based Lending Rate (MCLR) and Repo Rate Lending Rate (RLLR). If your lender's gold loan interest rates are tied to the RLLR, your EMIs will fluctuate every three months. If the gold loan rates are tied to the MCLR, they will alter every six months to a year.
The gold lending rates related to the RLLR and MCLR will change when the Reserve Bank of India modifies its repo rate. Verify your lender's benchmarking technique to make an informed choice.
4. CIBIL Rating
Your CIBIL score demonstrates your creditworthiness. The higher your credit score, the greater your chances of obtaining reduced interest rates. Verify your CIBIL score before applying for a gold loan. If there are any mistakes in your credit history, you must fix them by reaching out to CIBIL.
The interest rate on a gold loan influences your monthly EMIs. If your interest rate is lower, so will your EMIs. Carefully analyse your interest rate before applying for a gold loan. You may use your lender's online gold interest rate calculator to calculate an affordable interest rate per your need.
FAQs
Q.1: What happens if you do not pay the interest on the gold loan?
Ans: The banking institution will eventually auction your gold if you don't fulfil three EMI payments in a row or more.
Q.2: Can you pay off the gold loan before it matures?
Ans: You can foreclose a gold loan before it matures or pay the principal amount at maturity.