Need A Personal Loan With Low CIBIL Score? Here's How To Avail One
Cibil score is considered as an important factor to get any loan. Read on to know how can you avail for a loan with low cibil score.
28 Sep,2022
10:41 IST
193 Views
28 Likes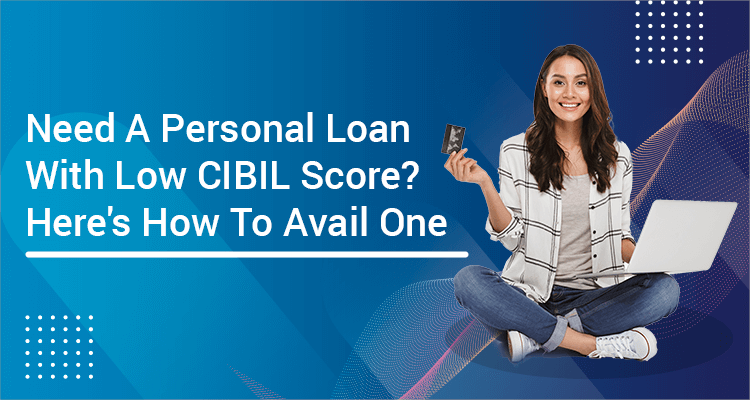 "What's your CIBIL score?" is one of the most common first questions your potential lender asks before you apply for a loan. A good CIBIL score is essential to get any loan, especially personal loans. This score demonstrates your creditworthiness which tells the lender that they can trust you to make timely payments. As it can get challenging to avail of a personal loan with a low CIBIL score, there are a few ways to succeed. Read on to learn more.
How To Avail Of A Personal Loan With A Low CIBIL score?
Typically, a CIBIL score of 700 or above is exemplary, whereas that between 300 and 550 is considered poor. Availing of a personal loan with the latter score can be difficult. If you fall under the latter category, you can use the following tips to convince the lenders to sanction the loan.
1. Show Income Evidence To Support EMIs
An additional source of stable income or a salary hike can help the lender approve your loan application. The CIBIL score instils the trust factor in the lender, and if you do not have that to showcase, you need to prove that in another form. Showing them a sure-shot way to pay the EMIs smoothly can be a game changer.
2. Consider Taking A Low Amount
You become a high-risk candidate with a poor CIBIL score. Your lender perceives you as the one with a high probability of default. Therefore, if the personal loan amount is lower, the lender might be more inclined toward granting your loan than for a higher amount.
3. Get A Guarantor Or A Joint Loan
A co-applicant or guarantor with a high credit score can help you process the personal loan faster. When you approach lenders with a person or entity with a good credit history, you enhance your chances of getting a personal loan.
4. Request The Lender To Consider You With An NA Or NH In Your Credit Report
An NA or NH is marked in your credit report when there is an idle credit period in the last 36 months. This sign indicates you do not have a credit history or credit report. Discuss this with your potential lender and explain why there is a credit period inactivity. The above scenario can have personal loan approval with a higher interest rate.
Ideally, the best way to ensure the approval of your personal loan is to work towards improving your credit score. However, the above tips can help you secure a loan without worrying about a low CIBIL score under stressful financial circumstances or other factors.
Frequently Asked Questions
Q.1: How to improve my CIBIL score?
Ans: You can improve your CIBIL score by following the below tips-
• Not default in the credit report
• Timely EMI payments
• A decent credit period
• Lesser number of loans simultaneously
Q.2: How to get a loan without a CIBIL score?
Ans: You can avail of a personal loan without a CIBIL score in the following ways.
• Collateral loan
• Peer-to-peer lending
• Using your parent's or partner's credit score
• Availing of a credit card