Personal loan Vs EPF Advance - Which Is better & Why?
Personal loan is a loan that can be borrow for personal needs whereas EPF advance is to withdraw money from your PF account. Read to know about difference between personal loan and EPF advance & which is better option.
18 Nov,2022
18:35 IST
3 views
18 Likes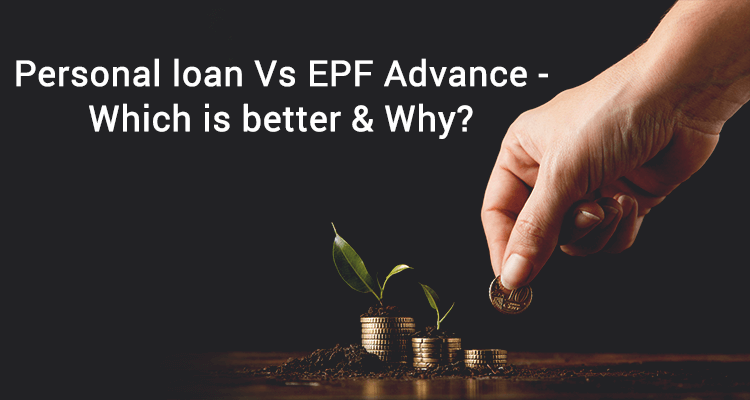 Financial disruptions occur when you least expect them. Irrespective of your impeccable budget planning, unplanned expenses can disrupt it. While savings are always a reliable resource, using them in full can leave you financially drained.
In such cases, most people switch to personal loans from banks and NBFCs or take advances from EPFO. The two short-term loan arrangements provide much-needed monetary support at convenient terms.
What Is An EPF Advance?
An EPF advance allows you to withdraw funds from your Employees' Provident Fund Organisation (EPFO) account as debt. It is the amount issued from the accumulated funds in your PF account. The Indian government has taken active steps to ease withdrawals from the EPF account, especially after the pandemic, to help people who lost their jobs.
You can withdraw the following amount as an EPF advance per the altered norms.
• Maximum of 75% of the total funds collected in your PF account.
• An amount equivalent to your three month's salary. The word salary here means a combination of Basic Salary and Dearness Allowance.
What Is A Personal Loan?
Personal loans are an easy-to-go lending facility offered by banks and NBFCs. They are generally unsecured loan options without pledging your assets as collateral with the lender. However, you can also avail of secured personal loans by pledging your assets as collateral. You can choose your EMI amount based on your convenience. A longer loan tenor means you will pay a higher interest amount, whereas a shorter tenor attracts lower interest payments.
Personal Loan vs EPF Advance
Criteria 1: Withdrawal Guidelines
For EPF Advances:
• If you want to withdraw money for a property/house purchase, you must have a working tenure of 60 months to qualify for an EPF advance. The maximum withdrawal limit is 24 times the basic salary and DA. In the case of a house purchase, the bar on loan amount is 36 times your basic salary and DA. In addition, the maximum amount is limited to the property's total price in both cases.
• You can withdraw funds for marriage or educational purposes only if you have served for a minimum of 84 months. In this case, the eligible loan amount limit is 50% of the employee's EPF contribution.
• In the case of a medical crisis, there is no set loan eligibility. You can withdraw the lesser of the two:
1. Six times your basic monthly salary, or
2. Total EPF contribution of the employee plus interest
• If you are willing to take an EPF loan a year before retirement, you must be above the age of 54 years. You can get a loan of up to 90% of the accumulated funds with interest.
For Personal Loans:
The eligibility conditions for personal loans are:
• You must be an Indian citizen of a minimum of 21 years of age
• An impressive CIBIL score of 750+
• Proof of income, like salary slips for salaried employees
Criteria 2: Application Process
For EPF Advance:
You can apply for an EPF advance online or offline. You must download the composite claim form from the official UAN website for online application. In offline applications, you must fill in the Aadhar or non-Aadhar form details available at your nearest EPFO office.
For Personal Loans:
You can apply for a personal loan on the official website of your preferred financial lender or visit the lender's branch office and complete the application procedures.
Criteria 3: Loan Terms
For EPF Advance:
When you withdraw funds from an EPF account, you are reducing the share of your retirement savings. Also, you cannot redeposit the amount lent as an advance, negatively impacting your EPF corpus. The lending terms are pretty strict under this facility.
For Personal Loans:
Personal loan providers offer total freedom to customers regarding interest rates, EMI schemes, repayment tenure, etc. In addition, lenders follow simplified work procedures and minimum paperwork.
Conclusion
Personal loans and EPF advances are convenient lending arrangements for resolving financial conflicts. Both are short-term loans with competitive interest rates and flexible EMI payments. You can analyse the difference between the two options mentioned here and choose the most viable solution.
FAQs:
Q1. Is credit history important for EPF advances?
Ans. No, your credit history is not essential in deciding your eligibility for an EPF advance loan.
Q2. How is interest calculated on EPF corpus?
Ans. The EPFO calculates compound interest every month. However, the amount is deposited to the subscriber account every year on March 31 of the current fiscal year. The present interest rate is 8.10%.