Is It Advisable To Take A Personal Loan To Invest In The Stock Market?
Personal loan is useful to meet various personal and urgent needs. Read to know whether you should take personal loan to invest in stock market.
25 Nov,2022
12:19 IST
434 Views
76 Likes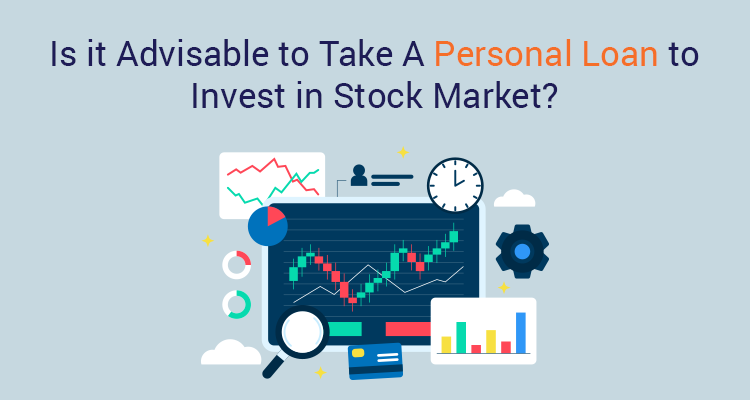 The Indian stock market has become a platform for people to invest systematically and earn reasonable profits over time. Equities have provided consistent returns to investors, which is intriguing to amateur traders who have either recently started making profits or want to start their investment journey. However, based on the stock market's immense profit-making potential, some novice investors believe it's a good idea to take a personal loan to invest in the stock market.
But is this notion correct?
The Theory Behind Taking A Personal Loan To Invest In The Stock Market
Investing in the stock market requires investors to infuse a certain amount to buy equities or other investment instruments by placing a market order. Most investors use their savings earned from a salary or business to invest in the stock market, as it doesn't create a financial liability.
However, some investors believe they can take a personal loan and use the amount as capital to invest in the stock market. The idea is to earn enough profits to repay the loan amount and interest to the lender from the profits made in the stock market and keep the remaining profits for personal gains.
Should You Take A Personal Loan For Investing In The Stock Market?
It is never a good idea to take a personal loan to invest in the stock market. The logic behind not taking a personal loan is the volatility that the stock market witnesses regularly. You may do your research and invest in stocks, believing that they can provide you with enough profits to repay your loan and still have personal gains. However, volatility can decrease the share prices to a level lower than your cost price, forcing you to incur hefty losses.
In such a case, you will have to repay the personal loan from your savings, which may be inadequate and can result in loan defaults. Defaulting on a loan can decrease your credit score and the possibility of getting any other loan approved. Hence, avoid taking on a financial liability to invest in the stock market, which has no guarantee of giving quick profits.
Conclusion
In theory, such a process could be ideal as personal loans have no end-use restrictions on where the borrower can use the loan amount. If you can pay the monthly EMIs to the lender, you can use the personal loan amount to invest in the stock market. However, if you are a beginner investor and are unsure of the results of your investments, it is not a good idea to follow such a process. You should ensure that you only invest an amount you are comfortable losing without creating a financial burden.
FAQs:
Q.1: Should I use my savings for investing?
Ans: Yes, you should use your savings to invest in the stock market rather than take a personal loan.
Q.2: How much can I raise through a personal loan?
Ans: You can take up to Rs 5 lakhs as a personal loan.