Why Should You Choose A Personal Loan Over A Salary Advance Loan?
Personal loan can be beneficial for a borrower to overcome unexpected financial crisis. Read to know which loan would be better between personal loan and salary advance loan.
9 Nov,2022
12:47 IST
2 views
21 Likes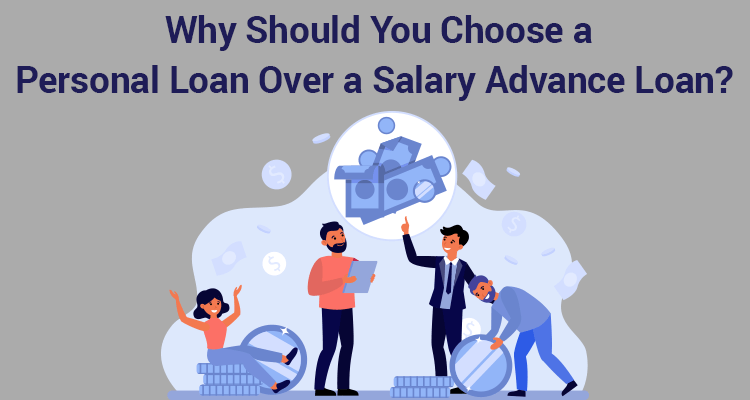 Everyone faces financial trouble at some point in their lives. Despite planning out every expense, an unexpected medical bill, home repair, or other incidents may increase your expenditures. You may have saved some money for emergencies. But what if your savings aren't enough to cover your immediate needs
Banks and financial institutions have various borrowing options to meet your needs. A personal loan and a salary advance loans are suitable options in such circumstances. However, which would be better? While both are loan products, they operate quite differently, despite their similarities. The consensus is that personal finance is better than salary advance loans. Let's figure out why.
What Is A Salary Advance Loan?
Salary advances are unsecured, short-term loans that you get against a salary. Borrowers can take out salary advance loans three times their monthly salary. There is a 12 to 15 month loan tenure. It is easier to get a salary advance loan than a personal loan.
Salary advance loans are an attractive option for salaried professionals seeking short-term financing. The loan is disbursed within a few hours, does not require paperwork, and does not require collateral.
However, salary advance loans come with a catch—skyrocketing interest rates. Compared to other loan categories in India, they are among the highest. As a result, your EMI will be a lot higher than expected.
Personal Loan vs Salary Advance Loan
Taking a quick look at the two, here are some comparisons:
• Availability:
You can apply online for personal finance with almost all Indian lenders. A few lenders only offer a salary advance loan.
• Accessibility:
Salary advance loans are available to salaried professionals, whereas personal loans are available to salaried and self-employed individuals.
• Purpose:
Salary advance loans provide short-term financial assistance that can be taken out, used, and repaid within a limited timeframe. They aren't long-term solutions, unlike personal loans.
• Rate Of Interest:
Salary advance loans have higher interest rates and, thereby, higher EMIs, which cannot compete with personal finance. The EMIs for personal loans are lower because interest rates are more competitive.
Why Choose Personal Loans?
Personal loans have many advantages, including ease of repayment. Salary advance loans are short-term solutions with a maximum tenure of 12-15 months. Compared to salary advance loans, personal finance products offer a longer tenure, thus allowing greater flexibility in EMIs and repayments.
An affordable personal loan can help you achieve various goals, owing to its flexible tenure and reasonable interest rates.
FAQs
Q1. What are the eligibility criteria for a salary advance loan?
Ans. The eligibility criteria include the following.
• Applicants must be Indian citizens
• Applicants must be at least 25 years old
• An applicant must earn at least INR 30,000 per month
• Loan applicants should provide details of their active bank accounts
Q2. What is a disadvantage of a salary advance loan?
Ans. Interest rates on salary advance loans may be high. Many borrowers pay 24% to 30% per annum, which is higher than a personal loan interest rate.