Personal Loan In Metro's vs Non-Metro's Cities
Personal loan is used to meet unexpected financial emergencies and various personal needs. Read to know more about the personal loan in metro and non-metro cities.
17 Nov,2022
11:42 IST
2 views
1 Like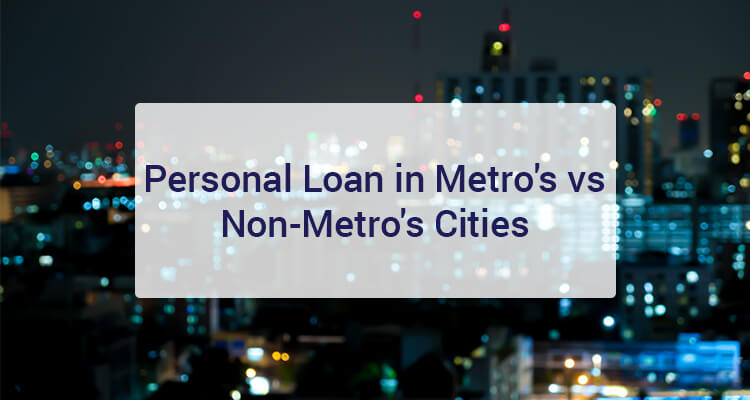 Personal loans are helpful when securing collateral-free debt at competitive interest rates to tackle financial crunches. These loans are unsecured facilities where lenders rely on your credit history and CIBIL scores for determining eligibility.
Typically, different lenders follow specific terms and conditions for personal loans. The city you live in affects lending rates further. A striking contrast in living standards, income, and resource accessibility compels lenders to adopt different norms for metro and non-metro personal loan borrowers.
What Is A Metro City In India?
According to the Census Commission of India, metropolitan cities have superior commerce, transport, and industry infrastructure. These towns have a thick culturally-diverse population of over 4 million in their vicinity. Mumbai, New Delhi, Kolkata, etc., are some of the top metro cities in India.
How Are Metros Different From Non-Metro Cities?
Some significant points of difference between metro and non-metro cities are:
• Living Expenses
The housing and maintenance costs are higher than in non-metro cities. As a result, you need to spend a significant chunk of your salary on rent or house loan payments, leaving no room for substantial savings.
• Living And Food Expenses
Easy access to superior quality food items, constant electricity, and water supply make living costlier in metro cities. Therefore, if you live in a metro city, you will likely spend more on everyday household expenses than someone living in a non-metro city.
• Social Expenses
With easy access to opportunities, people living in the metro will likely have steady income flows. It results in more spending on luxury items such as cars. On the contrary, people in non-metro cities prefer to save more. Therefore, they tend to avoid spending on luxury items.
How Personal Loan Eligibility Differs In Metro And Non-Metro Cities?
When sanctioning personal loans in metro cities, lenders rely more on your income, savings, expenses, repayment patterns, and credit behaviour. Therefore, they tend to dig into your disposable income to assess your capability for loan repayment. Furthermore, as the cost of living is higher in metro cities, lenders prefer to sanction loans to customers with higher incomes and secure backgrounds.
Personal loan terms are more relaxed in non-metro cities. Lenders tend to adopt flexible eligibility guidelines, with more medium-class clients applying for personal loans in these towns. They keep the terms aligned with the societal and economic dynamics of non-metro dwellers.
For instance, the monthly income eligibility for personal loans by a lender might be INR 25,000 for a metro city while INR 20,000 for a non-metro city. Loan providers adjust their norms based on the living standard, income status, and requirements of borrowers, which are pretty different in metro and non-metro cities.
Conclusion
Personal loans have become quite popular amongst borrowers in metro and non-metro cities. Most eligibility guidelines align with the living standards, income, and monetary requirements of the borrowers living in the two very different environments. If you plan to avail of a personal loan, ensure that you are well aware of the prerequisite conditions imposed by the lender.
FAQs
Q1. What is the interest rate on personal loans?
Ans. The interest rate on personal loans is different for different institutions. Usually, the interest charge falls in the range of 10% to 49%.
Q2. How can you revamp your credit score for personal loans?
Ans. To improve your credit score, you can follow the given steps:
• Pay your interest and EMIs on or before the specified date
• Reduce the debt utilisation ratio
• Constant checking of credit report
• Consolidate multiple debts into a single loan
• Avoid hard inquiries