Personal Loan In Metros vs Non-Metro Cities
Do you know that personal loan eligibility depends on the city you live in? Want to know the differences in taking loan in metro vs non-metro cities. Read here.
15 Dec,2022
11:30 IST
6 Views
98 Likes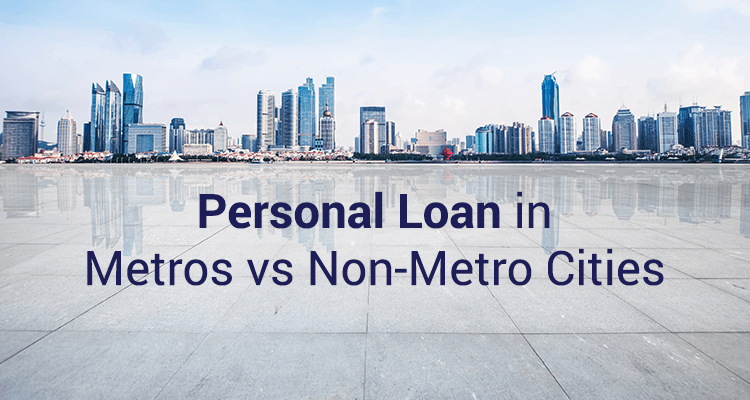 In times of financial distress, personal loans can be very useful. A personal loan is an efficient way to deal with unforeseen costs such as paying for necessary house repairs, sudden medical expenses, or a child's admission fees.
Personal loans are easy to get and don't need any collateral. Hence, lenders lean heavily on the borrower's credit score to gauge the repayment capacity carefully before advancing personal loans.
A person's credit or CIBIL score is calculated from their repayment history of past loans. There are agencies in India that keep a track of all the repayments being made by borrowers, including payment for credit card purchases and personal loans. The credit score is a three-digit number that ranges from 300 to 900. If one has a solid credit history and track record, the score will be closer to 900. A score of less than 600 could be interpreted as weak.
Sometimes, even with a high score a personal loan may remain elusive if lenders conclude that the borrower's repayment capacity is low.
Now, a person's repayment capacity depends on income and expenses, and both are a function of where one lives among other things.
Here's how taking out a personal loan differs for people living in metro and non-metro cities:
Metro and Non-Metro Expenses
A city with a population of more than 40 lakh is called a metro city, according to the census report. These would include New Delhi, Mumbai, Kolkata, Bangalore, Chennai, and Hyderabad etc. The expenses in metro cities are usually much higher than in non-metro cities due to the following factors:
• Cost Of Houses/Rentals –
The cost of a house in a metro city is usually much higher than in non-metros. Even rents in metros are very high. So, a family in a metro city tends to spend a higher proportion of income on paying installments for houses or on rents than in non-metro cities. This lowers the disposable income or the ability to repay personal loans of families in metro cities.
• Transportation -
Metro cities are usually spread over a large area with offices and industries far away from housing clusters. This increases the cost of transportation in metro cities compared with non-metro cities. Also, people tend to use personal transport more in metro cities, raising expenses on fuel and maintenance of cars.
• Other Costs Of Living –
Metro cities offer many entertainment avenues while non-metro cities have limited facilities, typically leading to lower disposable income with families. Also, simple daily items such as cereals and vegetables are usually cheaper in non-metro cities as they tend to be closer to agricultural areas.
Conclusion
As the cost of living is much higher in metro cities, lenders typically have higher threshold for minimum income for giving personal loans. For example, if a lender is ready to give personal loan to a person with at least Rs 15,000 monthly income in non-metro cities, the same lender may demand the minimum salary in metro cities of Rs 20,000.
Every lender has its own threshold for minimum salary for giving personal loans in metro and non-metro cities, keeping in mind the disposable income a family may have to pay for instalments.