Personal Loan From NBFC Is Better Option - Know Why 
NBFCs have emerged as an alternative to banks for a personal loan. Read here to know the benefits of taking a personal loan from NBFC!
22 Dec,2022
12:28 IST
6 Views
95 Likes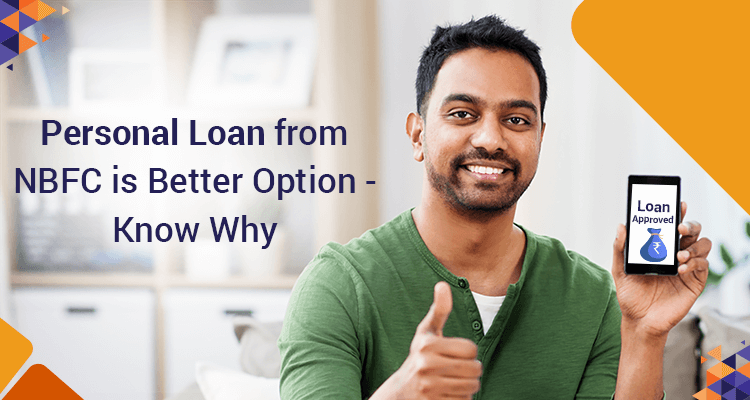 Moneylenders and banks are no longer the only sources of personal loans in India. NBFCs (non-banking finance companies) have completely transformed how loans are offered.
If you visited a bank yesteryear, you would know how difficult it was to apply for a loan. Regulatory norms, rules, and processes tied banks to lengthy legal processes. Some banks struggle despite simplifying the norms.
Contrary to this, NBFCs faced no such restrictions in their early years, enabling them to grow exponentially. This has led to considerable progress in the way NBFCs offer personal loans. Taking out a personal loan from a non-bank financial company has many benefits. Let's learn about them.
Why Choose NBFCs For Personal Loans?
1. Simple Eligibility Norms
NBFCs do not require you to go through complicated loan application procedures. CIBIL scores and your credit history are the main eligibility criteria for these companies. If you have a credit score of 750+, you will have a good chance of getting a loan approved quickly.
In the case of a low credit score, however, NBFCs may grant a personal loan based on your income status or other tangible assets. Personal loans from NBFCs are less complicated than those from banks due to their eligibility norms.
2. Limited Paperwork
The use of technology by non-banking financial companies reduces paperwork burdens. NBFCs, for example, allow you to apply for personal loans online, submitting scanned versions of the required documents. Lenders verify your documents before signing loan agreements.
A pre-approved or existing customer usually does not have to submit additional documents to qualify for a personal loan from an NBFC.
For a personal loan, you need to submit the following documents:
• KYC documents (Aadhar, PAN, Driving License, and others)
• Address proof (electricity bill or water supply bill)
• Statement of bank account
• Salaried employees must submit their latest salary slips
3. Short Disbursal Time
NBFCs transfer loan amounts to your account the same day they verify documents and sign contracts. The lending NBFC usually sanctions your application within minutes if you're an existing customer.
4. Efficient Customer Service
NBFCs strive to provide their users with the best possible service support when a loan is approved. The lender's mobile app makes it easy to monitor your loan status, account information, and installment tenure. You can also contact the NBFC official by phone or chat if you have questions.
The non-banking financial sector is giving banks stiff competition in personal loans. Their use of digitisation as a time-saving tool facilitates fast loans. With minimal paperwork and flexible rules, NBFCs can replace banks.
FAQs
Q1. How much interest do NBFCs charge on personal loans?
Ans. Personal loans from Non-Banking Financial Companies have an interest rate ranging from 10.9% to 36%.
Q2. Why do people choose NBFC?
Ans. For personal loans, NBFCs have more flexible eligibility criteria than banks. Their application process is also straightforward and requires little documentation.