Personal Loan From NBFC Is Better Option - Know Why 
NBFC is nothing but a financial institution, similar to bank which help individual to get loans. Read to know why getting a personal loan from NBFC can be a better option.
27 Oct,2022
17:16 IST
3 views
88 Likes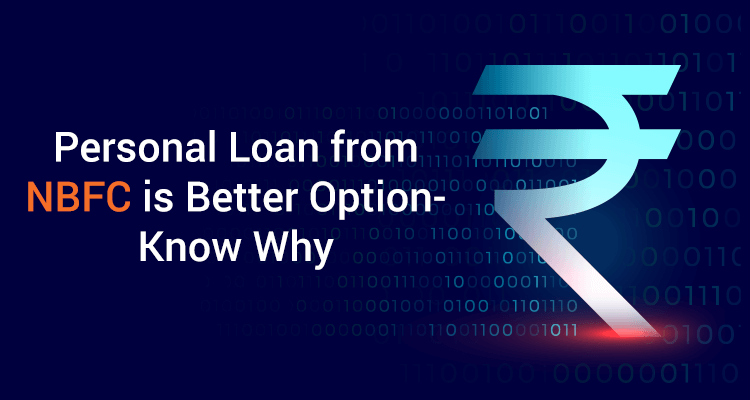 Non-Banking Financial Companies are a breakthrough in the Indian banking system. These institutions have given people easy access to the mainstream financial cluster, which is more secure and transparent. In addition, NBFCs have played a significant role in breaking the informal lending chain, a loophole in the Indian economic system. While banks are a popular choice for seeking loans, their stringent application procedures can make things complicated for borrowers. However, NBFCs tend to offer customer-friendly lending options to all.
Whom should you choose–banks or NBFCs? This article compares both options and explains NBFCs and their various perks for loan-takers.
What Are Non-Banking Financial Companies (NBFCs)?
Non-Banking Financial Companies provide access to several banking services to customers. The list includes services like lending, purchasing, leasing, IPO allotment, venture capital financing, risk pooling, margin funding, acquisition of shares, debentures, stock issued by the Indian government, etc.
Under the Companies Act of 1956, registered NBFCs have become a significant part of the financial ecosystem. However, these entities do not have a banking license to their credit.
Why Are NBFCs Best For Personal Loan Requirements?
1. Simple Eligibility Norms
You do not have to face hectic loan application procedures with NBFCs. The chief eligibility criteria used by these companies are your credit history and CIBIL scores. A good credit score of 750+ can help you get speedy loan approvals.
However, if you have a low credit score, you can highlight your income status or other tangible assets to secure a personal loan from NBFCs. The eligibility norms adopted by NBFCs for personal loans are less complicated than banks.
2. Limited Paperwork
Most Non-Banking Financial Companies use technology as a resource to reduce the burden of paperwork. For example, you can easily apply for a personal loan from the online portal of the NBFC and submit scanned copies of the listed documents. The lender verifies your documents before signing the loan agreement with you. Most NBFCs sanction your personal loan without additional document submission if you are an existing or pre-approved customer.
The primary documents you need to submit to the NBFC for a personal loan include the following:
• KYC documents such as your Aadhar card, PAN card, Driving license, etc.
• Address proof like electricity bill or water supply bill
• Bank account statement
• In case you are a salaried employee, then you must submit the latest salary slips
3. Short Disbursal Time
Post document verification and contract signing, the NBFC transfers the loan amount on the same day to your account. If you are an existing customer of the lending NBFC, you can expect a quick sanction within minutes of your application.
4. Efficient Customer Service
NBFCs strive to offer the best service support to their users during and after the loan approval. You can easily track your loan status, account, and instalment tenure on the lender's mobile app and receive notifications for any activity in your loan account. Additionally, you can quickly call or chat with the NBFC official to resolve any queries.
Conclusion
Personal loans are vital when you need instant funds without collateral. Non-Banking Financial Companies are giving stiff competition to banks regarding personal loans. They facilitate quick loans by leveraging digitisation as a time-saving tool. Minimum paperwork and flexible norms make NBFCs a potential substitute for banking institutions.
FAQs:
Q1. Do NBFCs consider your working experience for personal loans?
Ans. NBFCs do consider your employment duration in the case of personal loan applicants. Different NBFCs have varying norms for working professionals. However, most NBFCs prefer a minimum work experience of 2 to 3 years.
Q2. What is the interest rate imposed by NBFCs on personal loans?
Ans. Generally, the interest rate by Non-Banking Financial Companies ranges between 10.9% to 36% for personal loans.