Personal Loans For Senior Citizens
Personal loan can be useful for every individual. Senior citizen with certain age criteria and other factors can opt for a personal loan. Read to know about personal loan for senior citizen.
14 Nov,2022
13:19 IST
7 views
1 Like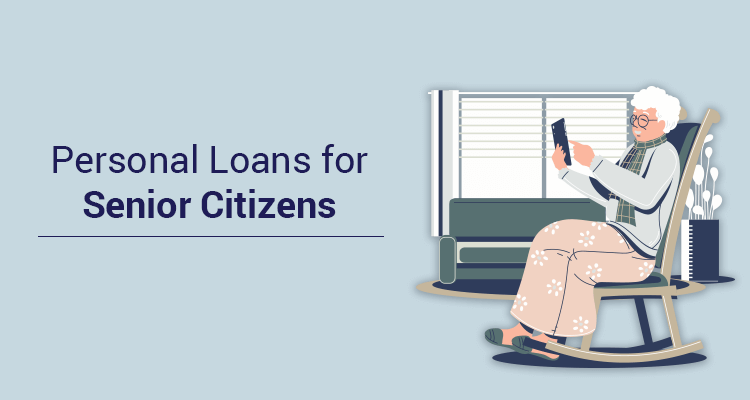 A financial emergency may happen to anybody, regardless of age. You may also be in a brief financial bind, with your pension due next month. Fortunately, you can use your pension as leverage and apply for senior citizen personal loans to satisfy current financial responsibilities.
As a pension holder, your monthly pension serves as security and assurance for a personal loan. A guarantor may need to pay off the outstanding credit if an unpleasant occurrence, such as sickness or accident, befalls the pension holder, rendering the pensioner unable to repay the debt.
Eligibility For A Personal Loan
The following are the eligibility requirements:
• You must be an Indian citizen.
• You can be up to 65 years old at the time of loan maturity
• Your monthly salary/pension must exceed Rs 20000. If you live in Delhi or Mumbai, your monthly income must be more than Rs 25000.
If you apply for a personal loan for retirees at 60 years old, you will have 60 months to repay the debt. Similarly, if you obtain a loan aged 63, you are given 24 months to return it. The amount a retiree is entitled to can range from 12 to 18 times their monthly pension or a predefined amount determined at the time of the loan application, whichever is less.
Documents Required
You may upload soft copies of the documents online without waiting in long queues. It makes the delivery process swift and paperless. The following documents are required.
• Personal loan application completed with current photos
• Identity proof, such as a voter ID card, driver's license, PAN card, or passport copy
• Proof of residencies, such as a ration card, passport copy, driving license, bank passbook, phone bill, or power bill
• Proof of Age, such as a PAN card, passport, or a certificate from a judicial body
• Bank passbook containing six months' worth of transactions
• Form 16
• Salary slips or audited financials and income statements
• A cheque for processing charge
FAQs:
Q.1: What is the payback period for a personal loan for retirees?
Ans: The payback period ranges from 12 to 60 months. However, your age determines the options available and the loan amount you can obtain. The highest age restriction at loan maturity is 65. As a result, if you're 55 years old and have taken out a substantial amount of credit, you can choose a payback period of 60 months or five years. If you are 63 years old and your loan is approved, you may only have up to two years to repay the debt.
Q.2: What happens if anything wrong occurs to me after I take out the loan?
Ans: If you are a pensioner, fall sick or are seriously ill and cannot repay the loan, your guarantor will pay the remaining loan amount. A personal loan for pensioners may be a secured loan based on the organisation's policy at the time of loan application, in addition to a particular profile. A guarantor is required before you can take the loan in certain situations.