Personal Loan For Salary Less Than Rs 15,000
The monthly income of 15000 can falls under the high risk category for lenders. Read on to know how much personal loan you can get for 15000 salary!
28 Dec,2022
12:21 IST
50 Views
119 Likes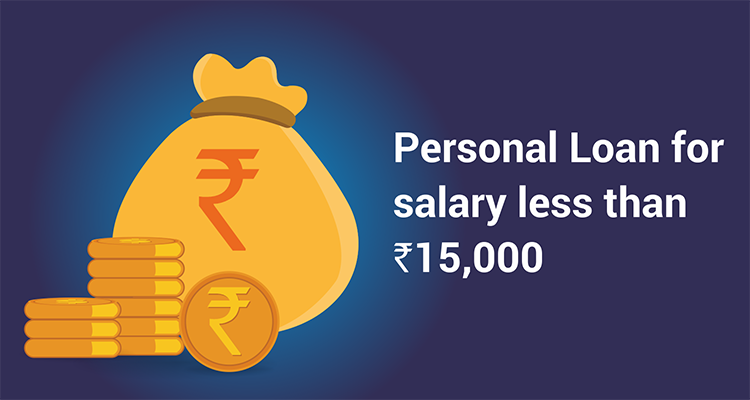 Personal loans are among the most popular debt products in India, making up a big chunk of the overall loan book of the banking system, thanks to a simple and quick application process as well as their usefulness in meeting a variety of personal expenses. Scores of banks, non-banking finance companies and new-age fintech lenders offer personal loans, which don't require any collateral, to individuals with sound credit history and good repayment capability.
Lenders, however, have certain eligibility parameters and a minimum income threshold that prospective borrowers must meet for taking out a personal loan. Most lenders require borrowers to earn a monthly salary of at least Rs 15,000 to be eligible. This is because lenders view borrowers in the low-income category as risky clients and offer them loans at high interest rates because personal loans do not require any form of collateral.
So, what should people with income less than Rs 15,000 do if they require a personal loan?
Some NBFCs and fintech lenders, as also a few private-sector banks, do provide personal loans to borrowers with smaller monthly incomes. A brief search of the websites of banks and NBFCs will yield information on the anticipated interest rates, terms, and EMIs for loans to borrowers making less than Rs 15,000 per year. Keep in mind that while one's income plays a major role in establishing eligibility for personal loans, lenders also place importance on having a high credit score.
Loan Amount
In general, personal loans up to Rs 150,000 are available from banks and NBFCs to borrowers making less than Rs 15,000 per month in income. However, a few lenders may sanction larger loans based on factors such as other income sources like rent.
The actual loan eligibility is calculated on the basis of the borrower's income and repayment potential. Lenders usually want the loan repayment amount to be less than half of the net monthly income. This means the total credit card and existing EMI obligations of a borrower, including that of the proposed loan, should not exceed 50% of the borrower's monthly income. Moreover, the borrower should have a high credit score, preferably 750 or above.
Interest Rate
Lenders may levy an interest rate of anything between 11% and 35% on the personal loan, Depending upon the applicant's income and credit profile. Lenders offer loans at a higher rate of interest to those who fall under the high-risk category, and a lower rate to less-risky individuals with a high credit score.
Other Fees
Apart from interest, lenders levy a processing fee of 0.5-6.0% of the total amount of loan to review and sanction a loan application. They may also impose documentation fees, late payment fee, prepayment and foreclosure charges, and penalties in case of defaults.
Conclusion
For most lenders, borrowers with a monthly income of less than Rs 15,000 fall into the high-risk category. This makes them more cautious about lending to this segment of customers.
NBFCs and smaller banks do make loans to this market, nevertheless. Therefore, maintaining a high credit score is crucial for someone in this category.
Before beginning the application process, a borrower in this market segment should research the lenders' interest rates and eligibility requirements. The borrower should also search for lenders who are accommodating with their payment terms and foreclosure fees.