Should You Take Personal Loan For Investing In Stocks & Mutual Funds?
Personal loan can be useful for various financial needs. But what about taking personal loan to invest in stocks and mutual funds. Read to know about pros and cons of personal loan.
16 Nov,2022
18:28 IST
2 views
98 Likes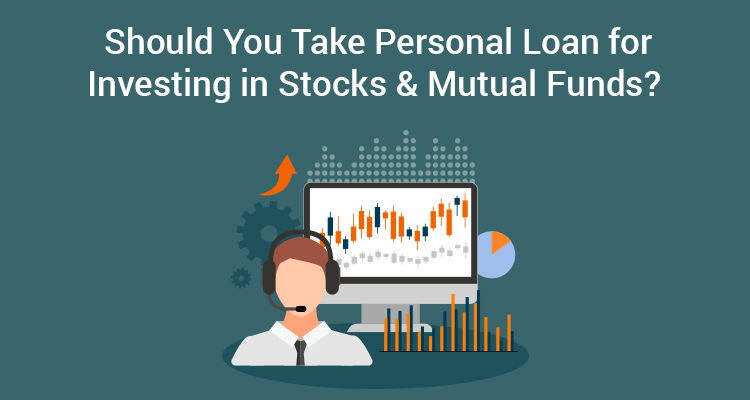 Over the past couple of decades interest rates on fixed-income instruments such as bank deposits as well as provident fund and post office saving schemes have come down. At the same time, more and more Indians have started investing in stock markets, either directly buying shares of listed companies or indirectly via mutual funds, in the search of higher returns.
In recent years, many people are even taking out personal loans to invest it in stock markets. This strategy can help investors to maximise profits by giving them access to a larger pool of funds to invest in stock markets.
However, is it wise to take on debt to invest in equity instruments especially considering that stock markets can be very volatile? So, let's evaluate the advantages and disadvantages of borrowing to invest in stocks and mutual funds.
Pros Of Personal Loans
Bigger Pool Of Capital:
Personal loans provide the investor a larger pool of money to invest. This can help the investor to put in money over a large number of stocks and mutual funds and minimise their risks.
Swift Approval:
Timing is critical for investing in stock markets. Most investors would want money to invest in stocks quickly. Most lenders sanction personal loans quickly and easily, often in just a day or two.
Few Restrictions:
Most loans can be used only for the purpose for which they are sanctioned. But personal loans have no such restrictions and the borrower can use the borrower money to invest in stocks and mutual funds.
No Collateral:
Personal loans do not require any collateral, unlike a car loan or a home loan. This means there is no risk of losing any asset in case the borrower defaults. Of course, a default could prompt the lender to take other measures, including legal actions, to recover the money.
Cons Of Personal Loans
Market Volatility:
Stock markets can be extremely volatile. While stock markets can give massive returns at times, they can also lead to heavy losses at other times. So, if one has borrowed money to invest, a sudden market correction can leave the investor with a huge debt to repay to the lender.
Interest Rates:
Personal loans are costlier than secured debt products such as home loans. The interest rate on the personal loan can be high if the borrower's CIBIL score is less than 700-750. And if the interest rate is high, the chances of turning a profit is lower.
Short Tenor:
Personal loans are usually offered for short tenors. But stock market investments are the most rewarding in the longer term since equity investments can be risky in the short term.
Conclusion
Investments in stocks and mutual funds can be risky. In general, people should avoid investing in the stock markets with borrowed money. Having said that, people can take out personal loans to invest in stocks and mutual funds if they take some precautions and do not take unnecessary risks.
One can use personal loans to invest in stock markets but must be careful in doing so and only after thoroughly analysing the pros and cons. Moreover, people should invest in stocks and mutual funds that have a good track record and stay invested for a longer period of time to maximise the return on the investment.
Still, people planning to take out a personal loan to invest in stocks and mutual funds must have a backup plan to repay the debt if the markets fall suddenly and their investments turn into losses.