Is Personal Loan For House Down Payment Right or Wrong?
Is getting a personal loan for the down payment of your home loan is the right choice to make? There are various things you should know before taking any decision. Read to know more.
19 Dec,2022
12:59 IST
11 Views
46 Likes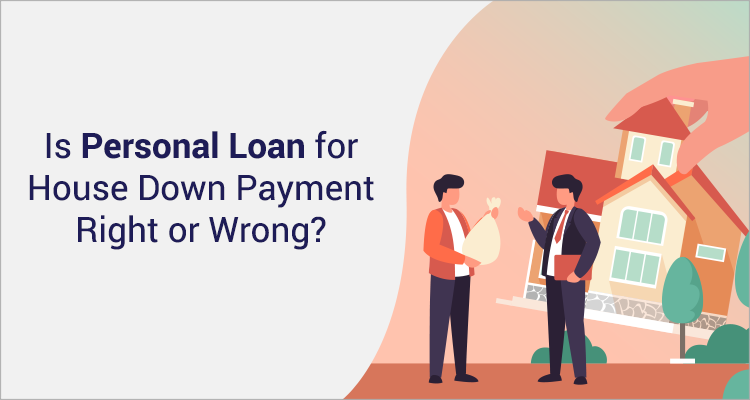 Most families desire to have a house of their own and a home loan is one of the best ways to fulfill this dream. Most banks and non-banking finance companies will finance up to 80-90% of the cost of the house. The rest of the money, also known as down payment, must to be provided directly by the loan applicant.
In many cases, the home loan applicant may not have ready access to a large amount of cash to make the down payment. They have the option to borrow from moneylenders at very high interest rates or take personal loans.
What Is Personal Loan And How It Works?
A personal loan is offered without any collateral and there is no restriction on the end-use of the funds. Personal loans are easy to get and require minimal documentation. But a personal loan is provided at a higher rate of interest than secured loans such as home and auto loans because it is unsecured.
A personal loan can be used for almost anything and is an effective solution in many different situations. Some lenders might inquire about the loan's objective, but the majority would not ask a borrower with a strong capacity for repayment. So yes, personal loan can be used to make down payment for a house.
Benefits Of Using Personal Loan For Down Payment
A personal loan provides instant access to money with adjustable payback terms. It helps to take a personal loan for down payment of house as a borrower does not need to dip into emergency funds or appeal to others for advances.
If money is being used to pay for a house, buyers are eligible for deductions on the interest paid on any loan under income tax laws. This benefit will, therefore, also apply to a personal loan used as a down payment for a home. This means that a person can deduct up to Rs 2 lakh in interest payments from his or her income each year. This amounts to roughly Rs 60,000 in annual tax savings, assuming a 30% tax band. This benefit is for a self-occupied property and is valid even if you use the funds for home renovations.
Challenges In Using Personal Loan For Down Payment
The rate of interest on a personal loan is higher than on most secured loans. But prospective borrowers can always check for banks and non-banking finance companies (NBFCs) that offer the best possible rate.
If a borrower chooses to use a personal loan to cover their down payment on a house, this will also have an effect on their creditworthiness. The amount of a house loan that the bank would be willing to offer will be impacted by the borrower's decision to obtain a personal loan.
Conclusion
Whether to take a personal loan for the down payment of house would depend on the circumstances. Most of the tax benefits that home loans offer are also applicable on the personal loan used for down payment.
As long as a person has the capacity to repay installments for both a home loan and a personal loan, it does make sense to go for it. The only two things to check when deciding whether to take a personal loan for a house down payment are repayment capacity and interest rates.