Personal Loan For Chartered Accountants
Professional like CA can opt for personal loan to start their own practices. Read to know in details how personal loan can help you if you are a CA.
27 Oct,2022
17:02 IST
4 views
88 Likes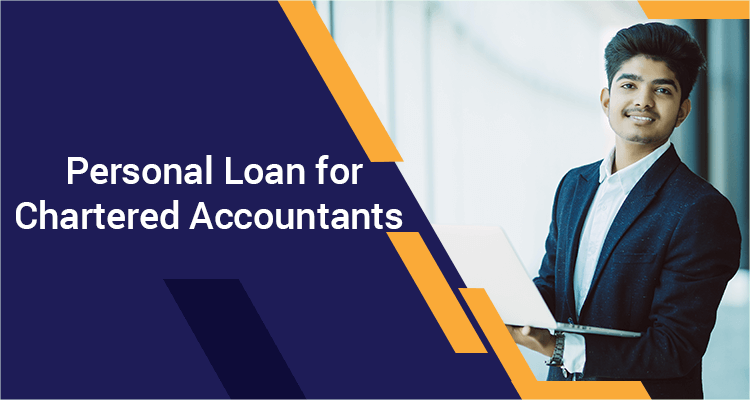 While many CAs prefer to work for a reputed chartered accounting firm, some prefer to start their practice. However, beginning a new CA business requires a substantial capital investment, like every new venture. With your ICAI degree, you can secure a personal loan from trusted PSBs and NBFCs at affordable interest rates.
But what are the eligibility guidelines for personal loans for CA? What is the repayment schedule? For what purpose can you use your personal loan? This article answers these questions.
Why Choose Personal Loans If You Are A CA?
Personal loans are collateral-free loans that give you quick liquidity for your financial requirements. A significant benefit of this loan is that you can finance any business or personal expense. Other merits of choosing this loan to fund your CA venture are as follows.
1. Instant Loan Processing
Being a CA includes a tight work schedule with no room for tedious paperwork related to loan sanctions. Thus, financial institutions prefer to keep their personal loan processing procedures simple and customer-friendly.
You can apply for a personal loan online and submit scanned copies of the necessary documents. The lender verifies your documents and informs you about your application status quickly. You get the money as soon as the lender processes the loan.
2. No-Collateral and Extensive Documentation
Personal loans are collateral-free, and you can use them for any purpose. To streamline loan processing, financial institutions require minimal paperwork. The primary documents you need to submit to the lender for a personal loan are as follows.
• KYC documents: Aadhar card, PAN card, etc.
• Address proof: water bills, electricity bills, etc.
• Certificate of practice issued by ICAI
• For salaried CA professionals, salary slips for the past three months are essential.
• Income proof or an Income and Expenditure statement is mandatory in the case of a self-employed CA.
3. Easy Repayment Tenure
You can find several repayment schemes for personal loans offered by banks and NBFCs. Based on your income status, you can choose your repayment schedule easily. Generally, lenders allow you to repay the loan as a whole or in EMIs. For EMIs, lenders allow you to choose monthly, bi-monthly, or yearly installments.
4. Low-Interest Rates
Loans for chartered accountants often accompany low-interest charges. Lenders calculate interest rates based on your credit history and CIBIL score. Therefore you should analyse the prevailing market interest rates when going for a personal loan. Your EMI will depend on the interest rate charged by these financial institutes.
Conclusion
Personal loans are collateral-free loans that you can use to meet personal and professional funding requirements. If you are a chartered accountant planning to start your practice, you can easily take a personal loan for instant capital. The processing mechanisms for these loans are easy to follow, the interest rate is low, and you can enjoy flexible repayment plans.
FAQs
Q1. Why should a CA take a personal loan?
Ans. A personal loan is ideal if you plan to set up your CA firm. The loan will give you instant cash at a reasonable interest rate. Additionally, you can secure your savings by taking personal loans.
Q2. How much can I borrow under the personal loan category?
Ans. The loan amount depends on individual financial institutions. Your credit history and employment status are crucial factors in loan amount sanctioning. A good credit score can fetch you a maximum personal loan amount of INR 30 lakhs from a trusted lender.